The cast and crew of Homeland descended on Beverly Hills yesterday for the Television Critics Association summer press tour, revealing a number of intriguing scoops and tidbits regarding Season 3.
It premieres on September 29, but scroll down now to whet your appetite for one of the best dramas on television with a handful of spoilers...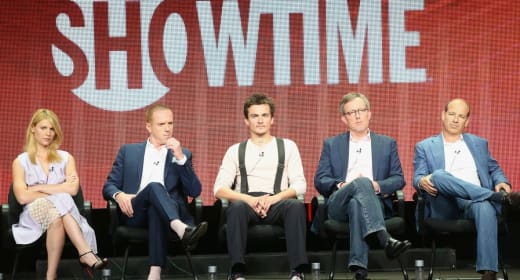 Where's Brody? Not in the opening two episodes, for starters. Said Damian Lewis:  "He's disappeared into a network, a tunnel system, an exfiltration system that Carrie has affected. He's the most-wanted criminal in the world at this point. He has to lay low. When you do see Brody, hopefully what will be of interest to the audience is: What state will he be in? Is he hidden away securely somewhere or is he lost?"
What's wrong with Carrie? She lost Brody, she could not prevent another terrorist attack and she's not taking her pills. Claire Danes previewed:  "Carrie is always sitting on her own personal ticking bomb. It's an impossible dilemma because she's not great on the meds and she's even worse off of them. But there's a really great sweet spot in the middle of those two states that she's always trying to land on, where she's incredibly high-performing."
CI… hey now! Producer Alex Gansa said a theme of Homeland Season 3 will be "the cost that being an intelligence officer exacts on the people who are in that career. As a result of the attack, the CIA itself is on trial. If the agency couldn't protect itself, how could it protect the country?"
Saul in charge: As CIA Director, Saul "finds himself having to make decisions, and he has to make some very uncharacteristic choices he isn't used to making," said Gansa. "One of them has direct bearing on his protégé Carrie Mathison."
An in with Quinn? Rupert Friend talked about the bond Quinn shares with Carrie and added: "There's a mutual respect for someone who takes personal risks for their job. They're both edgy and go to extremes to get the work done."
Brody may be sidelined, but his family will still be featured. "We felt we had to honor those people we created," Gansa said. "These families always get paraded in front of the cameras. ... What would their lives be like after this devastating attack and after their father and husband was accused of being the guy who did it?"
Homeland Season 3 kicks off Sunday, Sept. 29 at 9/8c on Showtime.
Matt Richenthal is the Editor in Chief of TV Fanatic. Follow him on Twitter and on Google+.