The 29th annual Television Critics Association Awards just got a whole lot funnier.
Comedy Central stars Keegan-Michael Key and Jordan Peele have been tapped to host the non-televised ceremony, which will take place on Saturday, August 3 at the Beverly Hilton Hotel. TCA President Candace Havens confirmed the news today in a press release.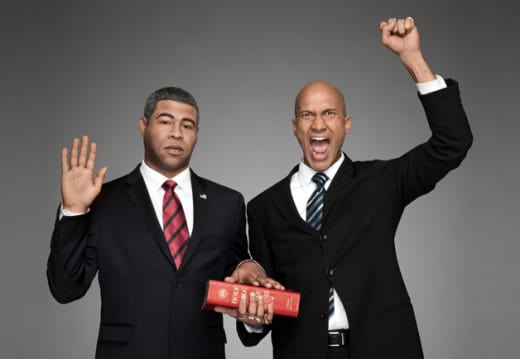 Key & Peele is a sketch comedy series that kicks off Season 3 in September.
The hosts are expected to rely on improv for their upcoming monologue, prior to helping hand out hardware to various programs, actors and actresses as voted on by the top TV critics in North America.
"As professional journalists, we've followed the careers of Key and Peele since they broke on to the scene with Mad TV. Based on their comedic work on that show, they immediately caught our attention," said Havens. "We've noticed how they have honed their trade and elevated their sketches, as the freedom of Comedy Central allows them to push their limits and expand their repertoire. Their relevant and irreverent take on comedy, coupled with their smart and witty writing and acting, make them important artists who truly understand today's culture of what's funny. We're honored and thrilled that they have accepted to host our 29th Annual Awards."
Added the comedians in a joint statement:
"We are so honored to be receiving this awar…Oh. Hosting? Yes! That's what we meant."
Matt Richenthal is the Editor in Chief of TV Fanatic. Follow him on Twitter and on Google+.