Major Crimes has really been delivering some deep material of late. It all packs an emotional wallop and "The Deep End," while starting on poor footing by bringing up the Trayvon Martin case, fell into something else entirely... that left me just short of weeping.
The two tie-ins with our team and the case were to Rusty, who had suffered a similar fate as the victims as they appeared in the case and Flynn, whose exasperation at the combined family presence at his daughter's wedding made him want to just walk away from the entire affair.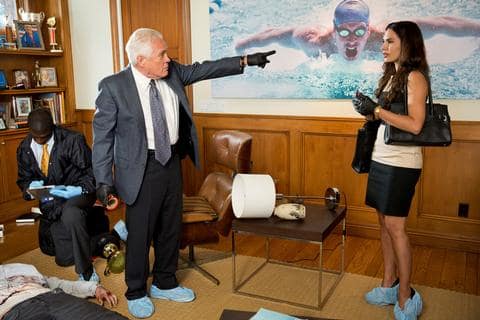 Thank goodness we weren't subjected to a race-related investigation so soon after the end of the George Zimmerman trial. I definitely wasn't up for that debate.
However, I should have been careful what I wished for because I was most certainly not ready, either, for the video the murder victim made, outing his swim coach from years earlier, whose house he broke into and whose weapon killed him - as a pedophile. 
It was obvious as soon as they started playing the video they found on Matty's computer it was going to be incredibly bad news, but nobody wants that to be the result. Watching his parents battle each other over Matty's swim career as a before and after scenario - when he could have made it to the Olympics if not for his coach - was heartbreaking. That Matty's father considered him a failure because he never took the time to figure out why he was suffering so and just made assumptions instead of pushing the issue and questioning his son... all of it was almost unbearable to watch.
Rusty's always in the wrong place at the right time, here catching a bit of Matty's video. Even he thought 13 was too young to be molested, given that he got into the trade at the ripe old age of 15. Rusty continues to hide things from the right people, yet reveal it to the wrong people to try to guide his life in a way he thinks it will be easiest to manage. He should have learned by now Sharon won't let that happen.
As young men of all ages learned of Matty's death at the hands of their beloved, groping swim coach and thought the coach was cleared of molestation charges, they all turned to the major crimes division to give statements. Statements that may help in the case overall, but really meant nothing because of their ages. The statute of limitations was running low on most of the young men and only one was a good case against Coach Frey. The kicker was that since Matty broke into Frey's house, they couldn't even accuse Frey of murdering Matty, as it was justifiable homicide. Take note, Californians.
You could feel the tension in the air as Frey turned himself in, and I did expect something to happen outside the precinct. As much as it will hurt for Matty's mother to live knowing her husband is in jail and her son is dead, I don't think his father could have lived with any other decision than justice for his son. Real justice at his own hands, taking Frey's life in the same way he took Matty's - only over a much shorter span of time.
The best thing to come out of the hour was Flynn gave up his fight against his daughter and their family about not attending her wedding. He realized just how easily things can change, and he listened when Matty's father wished he had the chance to talk to his son and set things right. Flynn had that chance and his chance was in three hours at her wedding. I loved that Sharon offered to attend with him as "his friend, Sharon," a buffer to take the edge off his attendance. I hope they had a lovely time.
Carissa Pavlica is the managing editor and a staff writer for TV Fanatic. Follow her on Twitter.