I had a lot of problems with "Boys Will Be Boys."
The subject matter was terrible. There's no doubt about it: I don't know how covering the murder of a transgender child by a family member could be handled well, but this felt awful to me.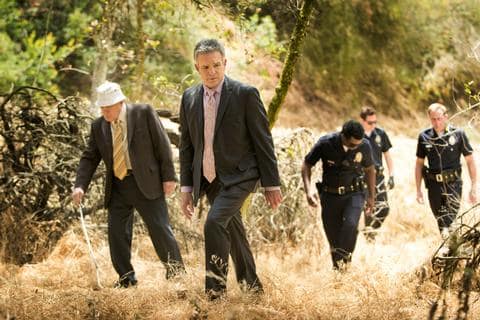 Going after the kid who harassed the victim was done well, and Sanchez when he hunts those who hurt kids. That's his forte, without a doubt. While the child wasn't the killer in the end, it was a satisfying conclusion they were able to charge him with what he did in the bathroom and posted on the Internet. 
What was so difficult for me to watch was the focus on the family, especially on the father, a great guest starring role by Craig Sheffer, who seemed to have "anger" issues. To me, he seemed the only one in the family who cared for his daughter. His anger stemmed from his frustration that the family was in such a messed up situation to begin with and that he felt he was dealing with it alone. I never once imagined he could have murdered Michelle.
Gail O'Grady did a terrific job as the mother who not only couldn't let go of her son to bring a new daughter out of the boy she gave birth to... but worried about the cost, what it would mean to everyone who looked at them and judged them and was obvious choice for the murderer - but they did have me fooled there.
She was cleared, having only protected her remaining son who had killed his sister after learning their father was going to establish residency for her to go to high school somewhere else and begin hormone treatments. In his eyes, she was tearing their family apart and he had had enough. It was quite a difference from the earlier boy we saw fighting on behalf of his sister as the harassing kid walked through the room. It was almost as if by hitting him, he was hitting himself. 
One very strange family in an out-of-the-ordinary situation turned on one another with dire consequences. It was horrible to watch. There wasn't much room to listen to Rios and her whining about looking at the victim's photos and I cheered when Provenza told her to grow up and do her job.
As a part of this episode, Jack brought up Rusty's sexuality. He has been rather ambiguous in his dealings with Chris and every time Jack brings up anything referring to being straight or homosexual or even to dating, Rusty plays the "I have a police escort" card. Will we find out about that part of Rusty's life before he has to deal with the Stroh trial or after? I have a feeling it will be much sooner.
I'd like something a little lighter next week. How about you?
Carissa Pavlica is the managing editor and a staff writer and critic for TV Fanatic. She's a member of the Critic's Choice Association, enjoys mentoring writers, cats, and passionately discussing the nuances of television and film. Follow her on Twitter and email her here at TV Fanatic.