Ray went into "Black Cadillac" feeling like he had things pretty well under control.
He had the information he needed to get his father indicted for the murder of the priest in Boston and a warrant would be issued later that day. Avi would keep an eye on Mickey as Ray took Abby, Bridget and Conor to the Bel Air Academy to see what it would be like to really invest the LA lifestyle with their family.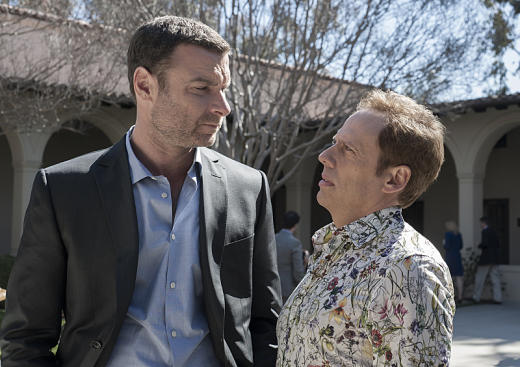 Things started to slowly fall apart as the day wore on. Ray's phone never stopped ringing, which always irks Abby. Stu was there - his son attends Bel Air - and apologized to Abby about his behavior in the past, but some other jackass took the public opportunity to flip off Ray and tell him to eff off during the entire Bel Air presentation. Ray's immediately family may act like kids, but the LA elite aren't any better.
Ray was called away in the middle of the visit when someone Lena was doing surveillance on spotted their equipment and Ray had to make a mad dash to clean up the scene. I'm not sure who it was that was being watched, but she was no stranger to it, screaming that she was a human being and appealing to Ray's morality as he just shook his head and walked away. Something tells me she shouldn't have been having sex with that particular man in that particular room.
While Ray was gone, the kids were getting first-hand experience of the other children at Bel Air. Bridget made out better than Conor, who had to put up with Stu's son. I don't understand why Conor didn't tell anyone why he hit Stu's son. The kid (who was still sporting an upturned collar from the early 80s) was a total tool, making fun of Conor and calling him gay for being friends with Tommy Wheeler. He was the one who was out of line, but Conor didn't even give him up. Who's the bad kid?
Mickey took Bunchy and Daryll to Palm Springs to see Daryll's mother, Claudette. It turns out Claudette is the woman to whom Mick gave all the money from that job that landed him in prison, and was probably the love of his life. There was a lot going on between them, even as Claudette's husband, movie mogul Alan (Paul Michael Glaser) threw his weight around and promised to pay Mickey back if he'd get the hell out of their lives.
After all the years apart, Claudette had held onto Mickey's titular black Cadillac, and her gift to him in the trunk was a bunch of black ass junk. Videos of the stuff he loves. She really knew him well.
Van the FBI man wasn't far behind Mickey all day, and when they caught up he had a deal for Mickey: He'd make the impending murder charges go away if he gave up Ezra Goldman, Lee Drexler and Ray Donovan. We didn't hear his answer, but later, as Mickey danced the night away in a gay bar, seemingly not a trouble in the world, we knew he just promised his son's life and those of his partners in return for his freedom.
For those of you who were holding out hope that Mickey was just a smart-ass or a cocky old man who might have done his kids wrong but really had a heart of gold... I think we just learned the answer. Whether he was that man from the start and that's what originally got him into hot water, or if he's just doing it to pay Ray back for his years behind bars, things are about to get a lot more interesting.
Carissa Pavlica is the managing editor and a staff writer for TV Fanatic. Follow her on Twitter.