The Ray Donovan premiere took me by surprise.
To wit: I didn't see Jon Voight's character getting released from prison only to murder someone after his initial cab ride.
It's only after slowly peeling away the family drama that holds Ray Donovan together that we discover just who it was he "took care of." It's indicative of his character, Mickey, and the juxtaposition of his mob mentality and his fatherhood.
I've read others call Donovan a fixer along the lines of Olivia Pope. But I'm imagining this has been going on for a century, since the beginning of Hollywood and Celebrity. I picture the times Rock Hudson was with a man and showed up at an event with Doris Day the next night - wouldn't someone like Ray Donovan have been resposible for cleaning up that "mess?"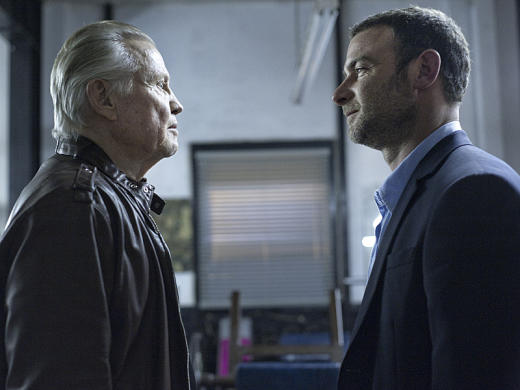 For decades we've believed the magic happens in front of the camera, but Ray Donovan proves the real magic is in keeping those who get in front of the camera - whether on a movie production, a basketball court or a concert stage - from falling apart so they can entertain us.
I've never given two squats about politics, but keeping my entertainers in line? That's something I can get behind. Ray's a tortured soul who struggles between doing what's best for his partners Lee and Ezra and their business, their clients, his family and himself. Liev Schrieber plays that soul so well it will bring tears to your eyes.
As he has fought not become his father, the very things he does to protect everyone in his life brings him close enough to what he remembers of his dad that he loses sight of the man he wants to be. His performance is spectacular.
Ray had been through an athlete who woke up next to a dead girl who overdosed... a high profile actor who was caught picking up a tranny... a young singer who had a stalker (that she was dating)... and his brother Bunchy who was awarded $1.4 million for being assaulted by a priest as a kid - all before he even knew his father was released from prison.
I have to wonder: would a woman really be allowed to breastfeed in her seat on a passenger jet? I'm not trying to start a political debate about whether or not they're entitled to do it and that it's natural. But whether an actual airline in this country would allow it to happen. As I watched  Mickey wickedly eyeing a mother nursing her baby, as an airline I'd make it policy for mothers to do it in private, mostly for their own safety. With men like Mickey walking around, anything could happen.
Voight was the perfect foil to play opposite Schrieber. Their chemistry is electric. I was bristling in my seat as the two faced each other for the first time, unsure of where the scene would take them, but knowing it would be well worth the wait. It was a slowly drawn out moment that built in tension, and the way Mickey egged his son on, knowing just what buttons to push to get to Ray, was perfect.
Ray's family consists of Terry, an ex-fighter and brother with Parkinson's who runs a boxing gym with Bunchy; their other brother, who is an alcoholic due to his abuse by a Catholic priest as a child; their sister killed herself years earlier and the incident still effects the family.
He learns on "The Bag or the Bat" they also have a half brother who is black from an affair his father had decades earlier. Ray's own family is his wife Abby and their two kids, living in Calabasas, "the Jersey Shore of Los Angeles," as Abby calls it. Ray moved them all from Boston to Los Angeles to erase the memories of a terrible past, and made a successful life for them. But as hard as he tries, he can't rid himself of his past any more than the rest of us can.
My favorite scene had to be when Ray was talking with his daughter about his sister and how she took her own life by jumping off a building. His fear of his father returning to his family and the havoc he would wreak on his family was so real, but his wife didn't understand it, so he tried to impart how he would always protect his daughter to her. She wasn't sure what was happening, so she just cried. It was a sad and beautiful scene, and it was easy to understand Ray's chosen profession.
He grew up unable to protect his family, so he set out to protect everyone else.
The betrayal of Ray's wife - learning she had been writing to Mickey while he was in prison and she bought into his lies, so much so that she opened her heart and her front door to him, bringing him into Ray's life - was stunning. It's also going to make for damn good story. How Ray will continue his successful and silent business endeavors with his father at his heels will make for compelling viewing.
Carissa Pavlica is the managing editor and a staff writer for TV Fanatic. Follow her on Twitter.