After watching tonight's episode of Royal Pains, I couldn't help but notice some of the issues raised and glazed over during "Pregnant Paws."
From Paige's new internship to the inclusion of two sets of patients, join me as I dissect this latest installment in just such a manner...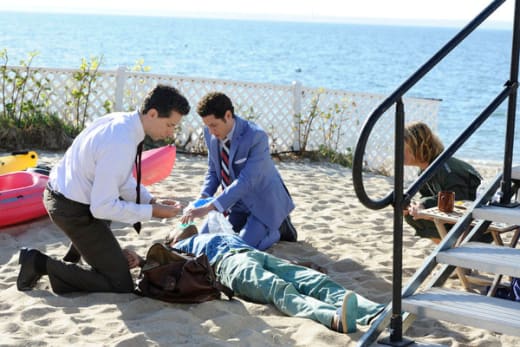 Raised: Paige suddenly getting an internship.
Glazed: Why the writers felt a need to add an additional character to an already large cast.
Raised: Hank and Evan holding out on Shelby Shackleford's offer to join the Symphony health network. 
Glazed: The need to bring back Paul, who dropped off the face of the planet during Royal Pains Season 4. Divya has enough men to navigate as a potential love interest. Why bring back another doctor to potentially compete for her affections?
Raised: Evan being extremely upset that Divya confided the pregnancy news in Jeremiah before she shared it with Evan, and why Hank seemingly felt so strongly about making sure Divya and her new baby felt safe.
Glazed: Why the comfort and safety of Divya and the baby seemed so deeply important to Hank.
Raised: The shock jock, G, being poisoned by his own partner, Kiki.
Glazed: Why she wasn't charged with a crime for defiling the poor man's tea.
Raised: Marissa finally reappearing after her sudden departure and the death of Boris' cousin.
Glazed: Where she magically disappeared to and why we should still care about Boris' super-secret life after five seasons of learning practically nothing new about the wealthy patron.
Raised: Evan announcing his candidacy for Village Council to the group.
Glazed: Anything else to do with his campaign, including an explanation to the group of why he chose to run.
Raised: Jeremiah revealing to Evan that he loves Divya.
Glazed: Evan having any reaction to it except the acceptance that Divya shared her pregnancy new with him first.
With all these pieces in play it is easy to see who important plots and characters can potentially get lost in the shuffle. The best we can hope is that all these open options won't eventually lead more questions than actual answers. What do you think fellow Hamptonites? 
C. Charles is a TV Fanatic Staff Writer. Follow her on Twitter.