Sons of Anarchy once again closed out Comic-Con on the television side yesterday, with Kurt Sutter and his large cast gathering in San Diego to give fans an idea of what they can expect in Season 6.
The panel discussion kicked off with our first clip from the September 10 premiere, with Jax saying in a voiceover that his life is "taking a turn."
We then see the SAMCRO President as a child before flashing forward to Clay and Tara both in jail... Jax advising his kids via a journal entry... Nero watching some dude get beat up... and Chibs punching Juice!
We also learn that Chibs has been promoted to Vice President, with Tommy Flanagan saying he may bring "some conscience" to his close friend and leader, while adding that Chibs "has a blind loyalty toward Jax in a lot of ways."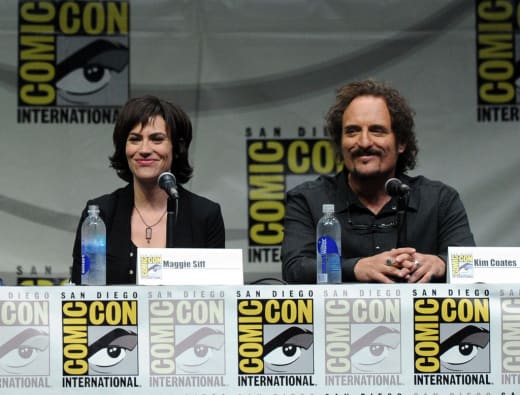 Among other highlights/Sons of Anarchy Season 6 spoilers:
Yes, Kurt Sutter still plans to end the series after Season 7. Does he know how he wants to wrap the epic up? "I have a sense of what I want the last scene of the show to be," he told a passionate crowd.
Season 6, meanwhile, will pick up a few days after the shocking events that concluded Season 5. "The [story] continues to be Jax's journey in terms of, can he be the leader of this outlaw organization and still be a loving father and a devoted husband? Can he take the club and lead them into a more legit line of work and still be an outlaw organization?" Sutter asked, while Charlie Hunnam added: "Can he have everything he wants and remain true to what he is?"
Clay, of course, has been framed for murder and Ron Perlman acknowledges that time may be running out for his character: "Season six is [Clay] knowing there is no more leveraging, no more maneuvering and no more choices. There's just this bounty on his head and he has no control."
Jax will still be feeling the effects of Opie's death, but Hunnam it will "inform him in a more positive way. "He'll try to let it inspire him to turn this club into what [his father] John Teller wanted it to be."
According to the first Season 6 promo, fists are flying and tension appears at an all-time high within the club. So who might be able to save SAMCRO? "Bobby Munson knows everything and he seems to be the light at the end of the tunnel," said Mark Boone Junior.
Tara will be forced to "man up" behind bars, a short-haired Maggie Siff teased, while Tig will be "back on the leash" under Jax, according to Kim Coates.
Sons of Anarchy Season 6 revs up on Tuesday, September 6 at 10/9 on FX.