It was just one of those days at Pearson Darby where everyone, whether directly or indirectly, signaled the same thing: "I Want You To Want Me."
Between the broken bromance that is Harvey and Mike to the potentially crumbling relationship between Donna and Rachel, it was hard to recognize this show as Suits like we remember it.
Can't we all just be friends again?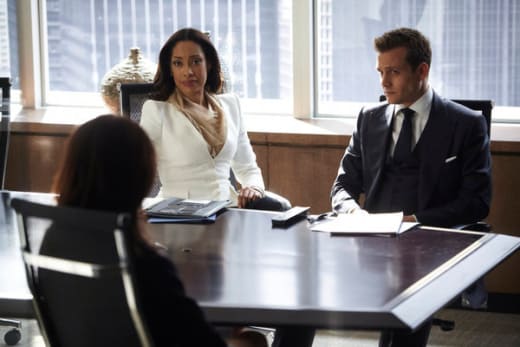 The fact of the matter is no, they can't. There are too many issues that everyone needs to work through. I am grateful to the writers that they chose to continue exploring the different relationships that have formed over the last two seasons and that we finally get a chance to really dig into them and their dynamics.
Take the relationship between Rachel and Donna. They have their girl moments, but when the conversation turned to Donna's loyalty to Harvey and Rachel's belief that he made a mistake, a fundamental rift in their respective notions of loyalty clashed in a way that broke my heart. I only want to see these two ladies happy and gossiping in the witty and fun way they do.
Needless to say their last bout where Donna revealed she encouraged Mike to get over Rachel, effectively making her tear up, was almost too much for me. Then again, when you look at it from the other side, the fact Donna tried to keep her out of it minimized her potential liability had things gone south on Suits Season 2. All I know is, I hate to see them fight.
The same goes for Harvey and Jessica. The thing is, it seems like the relationship between Ava and her right-hand man parallels the trust and loyalty issues that Harvey and Jessica were having. It makes you wonder if Harvey was starting to feel uneasy about the decision he made to betray her. 
We got our answer when he took Donna up on her suggestion to consider forgiving Mike. He has no intention of doing so, even when she blatantly put it out there that she wanted to get their relationship back where it was. If only she had not chosen to say that she would have put the brakes on Harvey's immaturity in the same manner again. 
If only Harvey realized the destructive path he's on. It's a reckless war path and it only ends one way: in a thousand degree burning ball of flames off of the track. Let's see Harvey build his way back up out of that one. The only person that will be there to help pick him up is Donna. All we can hope is that she's smart enough to deter him before he really does derail himself in a way he can't come back from... again. 
It was this little tidbit about Harvey and Donna that came out during Donna argument with Rachel that I found most interesting. The idea that she would call looking out for Harvey at the expense of her friend "part of her job." There's just so much going on there that I an dying to know about. Sure, she could just have that kind of strict loyalty to Harvey, and that would be okay. I just felt like there was something more there that needs addressed. Where does her desire to unfailingly support him come from. A subject for an upcoming episode, perhaps?
Of course I would be remiss if I didn't address the oh so cleverly crafted bromance triangle between Mike, Louis and Harvey. Harvey really had thrown Mike out into the associate wilderness. We knew from the beginning that Louis was going to choose Mike in a heartbeat.
My favorite part of that plot was no doubt the high-school-esque exchange between Louis and Donna about to what degree the relationship between Harvey and Mike was broke up. I totally wanted to jump in that conversation. If only they could have heard me through the television!
My only regret is that their bromance, built on amazing steak and a genuine love of the law, had to come to an end before we got to see Mike's no doubt priceless reaction to that "Team Litt" cake. I was almost surprised how, at the same time he might be demonstrating loyalty to Harvey, Mike inherently gave up a moment to demonstrate loyalty to Louis.
That's the one thing that's really trippy about all of the relationships at play in this series right now. In order to show loyalty to one, you automatically risk, or outright act, disloyal to someone else. Donna's loyalty to Harvey put her on the outs with Rachel and Mike's loyalty to Harvey shafted Louis.
Despite all of the crazy relationship drama that will no doubt be a consistent theme throught this third season, there were a few good moment we can dwell on:
Donna expressing her displeasure with Rachel over making her believe that Richard Gere was in the lobby.
Louis taking Mike mudding.
Louis' naked bum appearing, as traumatizing as it might have been for some.
Louis feeding Mike cheesecake as he tried to suck him into the eminent domain case.
Mike going to Rachel for advice only to hoist her over his shoulder and take her to what we would likely all agree was the bedroom.
So what did you think of this week's episode? About Louis getting the last minute shaft? Sound off below!
C. Charles is a TV Fanatic Staff Writer. Follow her on Twitter.