Suits Scoop: Sarah Rafferty on Season 3, Harriet Specter & British Donna
Chandel Charles at .
Suits Season 2 concluded with the Pearson firm and everyone in at a breaking point, both internally and externally.
The merger news and the aftermath brought some people together and alienated relationships that were once much closer. As for Suits Season 3? It will begin with our favorite associates navigating this new landscape.
"What's great about this season is that now after everything that was established in season 1 and season 2, we just dig deeper into their personal lives," Sarah Rafferty teased during our set visit last month.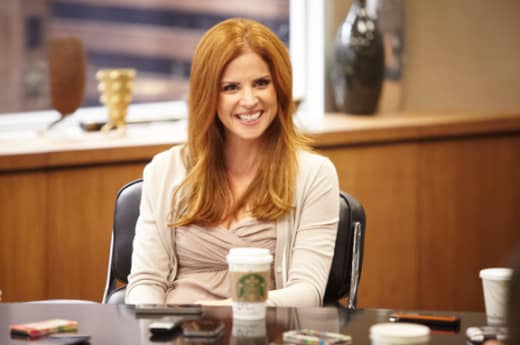 As a result of Mike and Rachel finally hooking up and things going on in Donna's personal life, fans can look forward to more of these ladies having some girl time, though perhaps not as Harriet Specter and Michelle Ross.
While Rachel and Donna still share a solid relationship at the season's outset, don't necessarily expect things to be immediately back on track with Donna and Mike after his decision to back Jessica in making the merger happen. Rafferty was candid about the state of Donna's relationship with Mike.
"[He's] really in the penalty box [with Donna]," she said, adding that her character comes back with a 'talk to the hand, the face is busy' kind of attitude towards Mike because of what he's done to Harvey... Donna really has to make it clear that she's on Harvey's side - and that's hard for her."
When discussing the merger and its impact on Donna, the actress revealed that "she's really got her hands full as a result of this merger. A British Harvey comes to town and that makes her life busy."
While he may cause trouble for Harvey down the road, don't expect a British Donna in town to challenge our favorite American legal secretary: "You know I was worried about that... but there is no British Donna yet, so we'll see."
Of course, no conversation would be complete without a little probing into what this star thinks about the Harvey/Donna relationship.
"It's like they had some past life together. They just get each other. Donna [is also] the person who kind of holds the mirror up for Harvey," Rafferty says, reflecting on the Season 2 finale when she tries to go to bat for Scottie, something that was a big deal for Donna to do:
"She's always on the same page with him, but is the first person to tell it like it is when Harvey's off track."
What can fans expect from the Harvey/Donna relationship in Suits Season 3? Stay tuned to TV Fanatic to find out and for more from my set visit to Toronto, including sit downs with all other main cast members.
C. Charles is a TV Fanatic Staff Writer. Follow her on Twitter.