Talk about tangled webs.
"As the Shadows Deepen" featured a mesh so interwoven that, only 20 minutes into the hour, it could have been worn as a nice winter coat in during an arctic blast. 
Jace and Daphne have continued on their nice little romance to the point where she doesn't feel it's an issue, as a senator's daughter, to strip to her skivvies in the bask seat of her car on a populated street to celebrate their "win" with the bill and the bill. She's lucky she had the quick thinking Jace at her side, using a false statement of "diplomatic immunity" to cover for he and his deaf girlfriend when the police arrived.
Truth isn't necessarily Jace's first language, and even if he's using to help Daphne, that still worries me.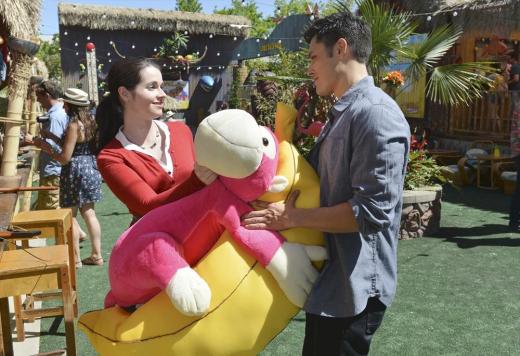 When they later ran into Chef Jeff and his new girlfriend, Jace was right there for Daphne, supporting her and being really cool about what came before him. That was his decent side. He also stood up for her when an idiot made a knock against the deaf by calling it Helen Keller Day at Maui, Kansas thanks to the decent turnout of deaf for a fundraiser Bay had put together.
Jace's questionable side came to light again when they found Mr. Helen Keller's coat and first Daphne decided to nick all of the dude's cash for his crass attitude as a "donation" to Carlton. She thought that was just fine (it's not) but drew the line at Jace's decision to take his credit card. The funny thing was Jace was right, the guy would have gotten his credit back, but not his cash - but they were both horribly wrong for wanting to steal from the guy in the first place. Who still thinks Daphne is a good girl?
Somehow it was even worse when she was self righteous after learning Jace told Jeff's girlfriend about Jeff's cheating while she was off working in Paris. Jace told her the only difference between them was that she refused to see the truth about her actions and lies to herself as well others. Ouch.
The whole reason the deaf population of Kansas had taken up at Maui, Kansas was Bay's way of showing support of her workplace. She wanted to get people in the door to try to keep it open against the stiff competition of a nearby water park. By showing a pristine 16 mm edition of Deafenstein, people would come in droves. Except Spankenstein arrived instead, and Emmett's DVD of Deafenstein held Dawn of the Deaf featuring a big kiss between he and Emmett and Ty got the wrong idea. Or did he? Will Bay ever make up her mind between the two? When the kiss played on screen, you could see her hesitation about...everything. Harboring feelings and wanting to act upon them are completely different, however.
The future is going to be more difficult for them all with the news that Ty is redeploying to Afghanistan, and that he is in love with Bay. Have they developed enough trust in each other during their short relationship to make it through the long haul, or will Emmett find a way to win Bay back when Ty is gone? I admit that after recent events, I'm rooting for Ty and Bay.
Toby was left with a terrible burden when Nikki was afraid to face her father's killer in prison. If I had doubts before about the marriage, I have even more now. To discover your fiance's father was a drug dealer, killed in a deal gone bad and be the only person who could tell her the truth would be a secret too deep to live with for a life together. The knowledge would kill Nikki. I thought Toby was more likely to let her go so she could live the lie her father's death left with her than to give her the truth, which would ruin everything she knew of the life she lived. But Toby did it. He told the truth. It was pretty amazing and an admirable choice for him to make.
I wish Nikki had gone through with taking to her father's killer, because it would have been interesting to see where her relationship with God would have taken her, given the killer's own breakthrough in that area while he was incarcerated. Would she have believed God could have broken through to a man who could take another's life, or would that have made her question her own faith? Maybe that will be coming in an episode down the road. Something is going to have to give before the wedding.
Who are you rooting for these days? What did you think of Travis and Marybeth pairing? Is there potential there? What couples do you want to survive and who do you think is in it for the long haul?
Carissa Pavlica is the managing editor and a staff writer for TV Fanatic. Follow her on Twitter.