After a tumultuous first season that was as talked about as it was criticized, The Newsroom returned for season two with "The First Thing We Do, Let's Kill All the Lawyers"
I had a love/hate relationship with The Newsroom season 1 and, yes, sometimes it felt like there was more hate than love. That's only because I'm a fan of Aaron Sorkin's work and when it falls short it's even more disappointing.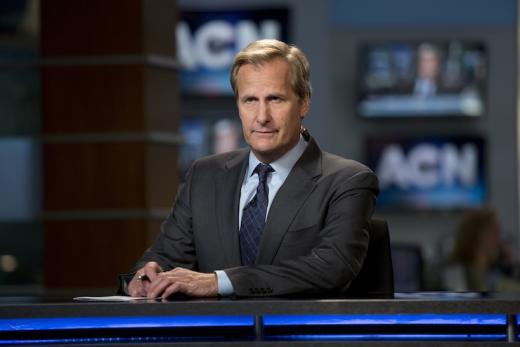 But I'm watching The Newsroom Season 2 with realistic expectation of improvement. And so far I'm satisfied. 
The first episode opened with the ACN staff being deposed by $1,500-an-hour attorney Rebecca Halliday played by Marcia Gay Harden. Apparently Will and his crew made some questionable journalistic decisions when covering a story concerning a black ops mission. It garnered them record breaking ratings but also landed them in plenty of hot water.
This looks to be a season-long arc, which could bode well for the show as season one's weekly stories frequently felt like they were chosen via a dart throwing contest. 
One of my biggest complaints last season was Sorkin's portrayal of his female characters. His attempts at quirky comedy fell so short that MacKenzie came across as klutzy and inept and Maggie was almost unwatchable.
There's definitely been improvement here. Mac was in complete control of her newsroom, other than Will ignoring her prompt during an on-air debate. She also said something stupid while not realizing she was on speaker phone but I can forgive those human moments if I'm convinced she's actually a confident professional who deserves her job and I saw evidence of that in this season premiere.
Maggie's an entirely different story. She may be farther out on the ledge than she was last season but as long as there's a story line to back that up, it could end up being compelling TV. All we know currently is that she went on assignment in Uganda and something terrible happened, leaving her so messed up that she chopped off her hair and dyed it orange. I'm definitely intrigued.
Maggie's state of mind could play into the current story in more ways than one, as Attorney Halliday told Will in this The Newsroom quote…
 She better get unmessed up in a hurry because she's a character witness and she looks like the Girl With the Dragon Tattoo. | permalink
In flashbacks we began to see how the dominos fell that led to ACN's legal nightmare and how the personal and professional relationships have progressed.
After being rejected by Maggie, Jim jumped a bus to Nashua to cover the Romney campaign for a couple of weeks. Anyone who has had a workplace relationship go bad could feel for Jim as he all but begged Mac to send him away on assignment just to get some space between him and Maggie.
Don was working on being a good boyfriend. Where I disliked Don last season, he actually made me believe he was trying for all the right reasons this time around. That was, until Maggie's evil cousin sent him a YouTube video of her confession to Jim on the street. 
For Don, it was almost a relief to know the truth because he'd been believing he was the bad guy for not being in love with Maggie. Unfortunately, where Don is set free, this may be the beginning of Maggie's downward spiral.
Will this open the door for a Don/Sloan hookup? Perhaps, but if it does I hope they take their time getting there. 
Neil's gotten in on the ground floor of the Occupy Wall Street movement and this could be yet another story arc for the season. I'm fairly certain I'll be equally entertained and frustrated by the show's preachy hindsight on this issue.
Sam Waterston proved once again why he's one of my favorite actors, as Charlie appeared to have unique chemistry with every character with whom he he shared scenes.
And finally we get back to Will and Mac, the show's power couple that's not quite a couple and tends to stall out more than power through. 
Again in flashbacks we saw Will feeling the sting of comparing the Tea Party to the Taliban after being kicked off of ACN's September 11 anniversary coverage.  Mac was on the other end of the phone at midnight to hear his tail of woe as he sulked and smoked way too many cigarettes. 
Will these two ever act like the adults they're suppose to be and confront their feelings for one another? I'd like to think so... but I refuse to get my hopes up as the show's history has given us male/female relationships reminiscent of junior high. I'm not naive enough to expect that to change any time soon.
But that's The Newsroom. It has quick witty dialogue, a talented cast and smart stories coupled with arrogant, preachy lectures and the slant of 20/20 hindsight. It is in equal turns incredibly frustrating and wonderfully entertaining. Here's to cautious optimism that I'll feel more love than hate for season 2.
C. Orlando is a TV Fanatic Staff Writer. Follow her on Twitter.