The Newsroom seemed to be the love it or, well, not love it show of last season, with critics split over the world of the fictional ACN television news network.
Accolades for the talented cast (Jeff Daniels, Emily Mortimer, Sam Waterston, Dev Patel) abounded, but so did gripes about the portrayal of woman and creator Aaron Sorkin's own ego.
The second season kicks off tonight and while anchor Will McAvoy (Daniels) works on getting himself out of some hot water, viewers will undoubtedly be looking to the love triangle of Don (Thomas Sadoski), Maggie (Alison Pill) and Jim (John Gallagher, Jr.) to see where it's heading this year.
I jumped on the phone with Sadoski to chat about where we find Don on The Newsroom Season 2 premiere as well as who, if Maggie – or Sloan (Olivia Munn) for that matter  – doesn't work out, who he'd like to see Don have some sexy screen time with... it definitely wasn't who I would've guessed!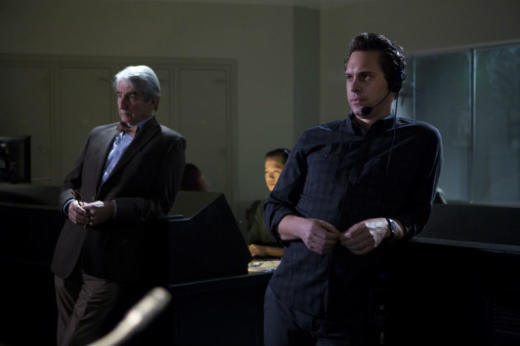 TVF: Talk to me about the new season and let's just dive right into the Don/Maggie/Jim triangle.
TS: We start out pretty much right after the first season ends. Don and Maggie are cohabitating and they're trying to make that relationship work in spite of the fact that there is quite a bit of information and things that have happened that Don is not aware of in regards to Maggie and Jim's relationship. That development, that change in Maggie and Jim's relationship has taken a toll on Jim, that there's been a change in what that relationship is now and it's costing him something.
So, we get right into it right off the bat and resolve some things right out of the gate. I think it's done in a gentle and interesting way and it's really cool and other aspects of some of those relationships will play out as the season progresses.
TVF: There's such a dichotomy between Sloan and Maggie. Do you think, if it were to go there, that Don and Sloan could be good together? Would they work?
TS: Well, they seem to. They seem to have a way of working and interacting with each other that works in a way that Don certainly doesn't with other people, almost anybody else on the show. Sloan operates with Don in a way that she doesn't almost operate with anybody else on the show. I'm really curious to see how that's going to play out. I think that there's a few interesting characters who bounce well off of each other. I know that Aaron [Sorkin] believes that too.
TVF: Like you said, Don doesn't know a lot of what happened between Jim and Maggie but what is the Don/Jim relationship like this season? Is there much interaction between the two guys?
TS: I think these two characters are both people who respect each other. It's a respect that's sort of been hard fought. It's maybe not the way they've started out but it's one that has grown. We'll sort of see. They do have some interaction this year but it's tricky because of the complications that you're point out. So, I can't give away too much but there are some moments of trepidation that they both sort of encounter with each other. They work through it because they're pros and they're both sort of aspiring to something else.
TVF: The first episode back has talk about Occupy Wall Street just getting started and the Romney campaign so we're a few years in the past. What do you personally think that brings to the show? Instead of it being set in the here and now.
TS: I think it's important to remember that at the end of the day we are a workplace drama. So, we want the news events that are happening be something that pushes the story of these characters forward. So, we get to sort of pick and choose which ones will fit in best. There is something to be said for taking some time to go back and reevaluate what is past and how it has passed. Sometimes things move so fast and the attention span is short, I feel like particularly in the news cycle, that sometimes it's good to be reminded of this wasn't all that long ago that X, Y and Z was happening. It's nice to be reminded. These are the reasons why it's important. These are the reason why it matters.
TVF: The show has a big cast but who would you love to have more scenes with that you really haven't had a chance to yet?
TS: I have been pitching a romantic relationship between Don Keefer and Leona Lansing (Jane Fonda) to anyone who will listen. Come on, that would be hot! It would be awesome and it would be great and I think that it should totally happen. So, I'm pitching it to anyone who will listen in the hopes that the more people who write about it or talk to Aaron about it the closer it comes to reality and happening.
TVF: I think you should be able to say that you had a love scene with Jane Fonda sometime in your career.
TS: Absolutely. [laughs] We have an embarrassment of riches on our show in terms of our cast. This year I got to spend time working with almost everybody, with the exception of Jane. I got to work with Marcia Gay Harden, who's extraordinary and who I just adore. I have such a good time working with someone who's so brilliant. I got to work with Dev a little bit more this year, which was great.
TVF: You've spent so much time doing theater, I'm curious what you make of a night like you had with the big Hollywood premiere for the new season this week. How do you kind of take it all in?
TS: Oh, it is totally surreal. I think the thing with it is that you just can't take it seriously. I think you constantly have to keep the perspective that at the end of the day we're making a TV show, nothing more, nothing less. It's really nice and it's so flattering that HBO is willing to throw us a big party like that. There is something sort of magical about being an actor on the Paramount lot. You know, it's really cool. You just sort of enjoy it for as long as you've got it. But keeping it in context of exactly what it is and how important it is, it's a fun thing. But at the end of the day it's a big, silly party for a TV show.




Jim Halterman is the West Coast Editor of TV Fanatic and the owner of JimHalterman.com. Follow him on Twitter.