True Blood Review: This One Time, at Vamp Camp...
Leigh Raines at .
With Eric, Pam, Tara, and Jessica acquainted with Vamp Camp, it was time for them to take action on True Blood.
And thanks to the help of Eric's new protege Willa and a bold performance by Bill in "Don't You Feel Me," these members of the undead are officially biting back.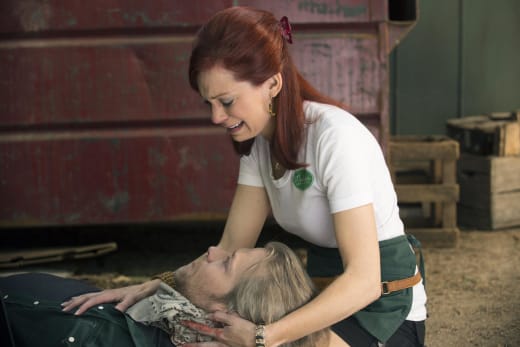 Of course the timing of Eric's plan would coincide with Jason Stackhouse breaking his way into the institution. This is the kind of stuff that happens to Jason. However, at least the romantic gesture won't be lost on Jessica when she finds out.
So... did anyone really think that Pam and Eric were going to fight, wound or possibly even kill one another? Puh-lease. Those two are like peas and carrots. They knew the game plan just through a few seconds of eye contact. Eric and Pam are Level One vamps and, despite Sarah Newlin's best efforts, nobody is desperate to give them the true death.
Burrell wants to wound Eric and feed him slow pain until he can find a "cure" for Willa. Newsflash Governor: Willa doesn't want to be "cured." She was more than happy to be a part of her new dad's plan and get the guards under their control. As far as the whole Hepatitis V thing, does anyone remember True Blood season 1 when Sookie warned Bill from being tricked into feeding on someone who had something similar? 
One thing to be said about Eric is that he takes care of his own. Nora is his sister and he will not let her die without a fight, even if that means crawling to Bill on next week's True Blood and begging for his help in healing her. Speaking of Billith, how badass was he when he walked onto the Governor's compound in broad daylight, taking wooden bullets left and right, altering commands and all around running shit? I also like that Bill isn't into Lillith's riddles and general irritating presence. She and her bloody minions can peace out.
Everything Else:
I think, and pray, that we've wrapped up the Alcide/Sam storyline. Sam realized that Emma needs to be with Martha. Alcide realized for two seconds that he needed to stop being a douche.
Rest In Peace, Terry Bellefleur. There was no way for Terry to reverse his own death wish once Arlene had him glamoured. At least he seemed happy in the last hours of his life. He died in the arms of his love.
Andy finally named his daughter! And gave her three extra names so she'd never forget her sisters. Aww.
Let's call it "The Adventures of Danger Whore." Sweet Jesus, is that what a faery orgasm looks like? Or did Sookie and Warlow just make a faery-vamp hybrid baby like some crap out of Twilight? Whatever, I have to say I'm digging their connection. 
Lafayette: Now let me get this hetero straight, so you's a vampire that can come out in the daytime.
Warlow: Yeah, in a nutshell.
Lafayette: There go the damn neighborhood. | permalink
This episode really brought us into the second half of the season with a strong feeling. It seems like the writers have decided to trim the fat regarding the storylines and really hone in on the main focus of the show. If they keep churning out episodes like this, I'll be as happy as Lafayette when he's alone with his glue gun and a blunt.