Can a relationship survive secrets? On Covert Affairs, the new relationship between Annie and Auggie was tested, as was that of Joan and Arthur. Both seemed to come out the other side stronger, but only after the secrets were revealed.
"Rock a My Soul" proved that trust must continually be earned even by those closest to you.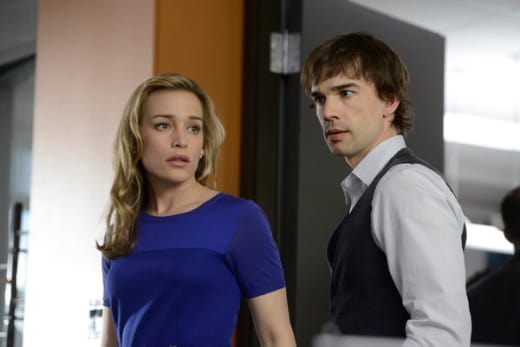 Auggie's promotion to the Head of the DPD was immediately a problem for his romance with Annie. He should have known better than to let Annie find out with the rest of the department that he was taking over. A little head's up would have been nice. Annie was quick to understand his position, though that acceptance didn't carry over to other difficulties. 
Annie's always been a bit of a rule breaker and willing to go rogue, so I'm not sure why Auggie didn't expect her to continue in her ways with him as her boss. For good or bad, that's what makes Annie a good agent. If he didn't want her to make contact with the Chens, he needed to put her on desk duty. Otherwise, based on her track record, she was going to make her move when she wanted.
Given the threat from Henry, Annie recognized the necessity to stop the Chens from giving up the evidence and any leverage they had to keep alive. Henry has turned into quite the bad guy and nemesis. It's getting close to being unbelievable what he's been able to do while continuing to work at the CIA. And, his end game really isn't clear. His actions have to be more than just making Arthur and Joan pay for Jai's death, right?
What is Henry's plan? Is it as simple as he wants power and money? Or, is could there be a hidden agenda? I'm not sure, but he's a formidable opponent who seems to continually outplay Team Campbell. The only way they are going to be able to stop Henry is if they start working outside of CIA assets. Henry is too integrated into the system there that they can't make a move without him finding out. Joan and Arthur couldn't even keep her pregnancy a secret from him. 
The lack of secrecy allowed the Chens' safe house to be compromised and got them killed. And, the evidence they sent against Henry was stolen from the delivery truck. The mission was a complete failure. Auggie lost his temporary post and the mysterious Calder Michaels from Colombia was brought in to take over the department. Is Calder a Henry ally? Is that why he and Annie end up facing off in the flash forward?
The history behind the goings on proved to be much deeper than initially presented. Not only did Auggie know about Teo being Arthur's son, he trained Teo to be a secret CIA operative. And, an even bigger secret -- Auggie was married! And, his wife was killed due to bad information from Teo. The complicated relationship between Auggie and Teo suddenly became much more understandable once the truth was revealed.
In this case, Annie believed Teo's intel and it was solid. Though, it seems likely that Auggie's mistrust of Teo won't go away and that could drive a wedge between Annie and Auggie going forward. Though, for now, Annie and Auggie are in the best spot they've been in. With Auggie's secrets (though, he probably has a few more) revealed and through the troubles, they are closer than ever.
The same can be said about Joan and Arthur. It's been a pleasant surprise to see them together as a couple outside of work. They truly love each other and have overcome many obstacles to be a couple. There's no way they are going to let Henry pull them apart. With a new baby on the way, their determination to stick together is only stronger.
Going forward, Calder is going to be a disruptive force over the DPD. He's not going to make the transition easy for Annie or Auggie. They are going to have a huge challenge dealing with a new boss, while continuing their investigation into Henry and overseeing Teo.
Were you surprised by Auggie's secrets? Will he be able to let go of the past and trust Annie with Teo? Is Henry as awful as he appears to be? Will Calder make a good Head of the DPD?
Carla Day is a staff writer for TV Fanatic. Follow her on Twitter and on Google+.