Like always, Devious Maids left me wanting more with "Taking a Message."
Surprisingly, the installment started out with Marisol and Rosie on ends and confronting one another about the lies they've both been hiding. We quickly moved to two days before to find out all that led up to the altercation.
So, what all happened? Let's break it down...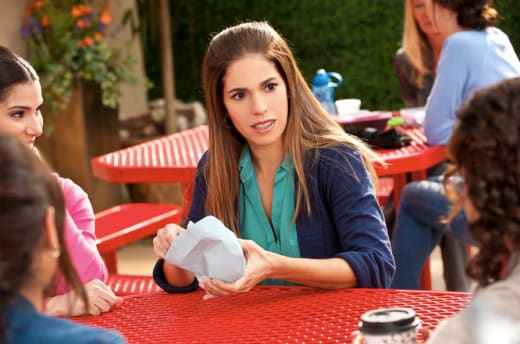 In last week's review, I questioned how long Marisol would be able to keep her identity a secret. This week, her cover was blown by a former student. Marisol was quick to tell the girl that she was mistaken; however, Rosie was far from convinced.
Rosie did her research and found out that the girl at the grocery store was right: Marisol was actually Professor Suarez. When Rosie confronted Marisol, the torn mother came clean and told her everything from simply trying to help her son to trying to find out Flora's murderer.
Rosie was too shocked and didn't care for another word Marisol had to say. As she stormed off, she left her phone behind. This came in handy for Marisol when Rosie later threatened to tell the girls about who Marisol really was.
Just in the nick of time, Rosie decided that she wouldn't say anything at all because she didn't want her secret about Spence to be revealed.
Meanwhile, Carmen and Sam clashed over their relationship when the former wasn't too cool with Sam's nonexistent ambition. Sam then quit and told her that he wanted to do much more and that she was his ambition.
I was really starting to like these two together and am wondering where exactly he's going and when he'll be back already.
Elsewhere, Valentina found out about Remi's drug problem and reached out to Zoila for help. Zoila called Remi's dad and Remi was shipped off to rehab.
I have a feeling that it's going to take awhile for Remi to forgive Valentina for breaking her promise of not telling. It's a good thing she did, though, because dragged out drug stories are boring and I want to see Valentina still trying to help at Remi's side.
Other Thoughts:
I loved the final touching scene between Marisol and Rosie. They both share a special bond with protecting their sons. Most importantly, Marisol now has someone else on her side. Finally!
I also loved that the girls pulled together funds for Marisol when they were all under the impression that she really needed help after losing her job at the Powell's.
Did you know that we are more than halfway through the season already? Who's at the top of your list of who killed Flora? Don't forget to check out our Devious Maids quotes section.
Growing up, I watched my fair share of soaps. From Days of Our Lives to Passions, I've really missed the craziness and drama that soaps bring. Thank goodness for the maids and their seemingly chaotic lives.