Only four episodes of Devious Maids remain this season, as we continue to learn more about Flora and what exactly happened to her.
Much like the rest of Devious Maids Season 1, "Scrambling the Eggs" was inviting and kept me wanting more.
So, what went down?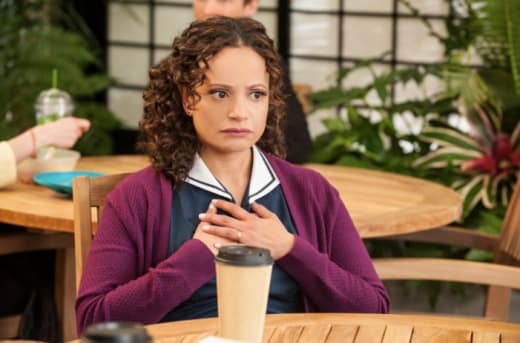 Well, we flash-backed two months earlier thanks to the DVD that Rosie got a hold of and handed over to Marisol. Through a conversation between Michael and Flora, we learned that Michael was representing the man who raped Flora. However, Flora claimed that the father of the baby was not the same person.
Flora mentioned needing more money for her child and grandmother. Marisol was convinced that she could learn more by getting in contact with Flora's grandmother. She definitely did and figured out that Flora cheated on Eddie with one of his friends. 
Meanwhile, Evelyn found out about Rosie's affair with Spence and used this bit of information to blackmail her to get more time with baby Tucker. Rosie came clean to Adrian about Evelyn's deal and this led to a surprisingly very touching moment between the Powell's.
Last week, Alfred agreed to marry Genevieve if she could find a way to obtain Valentina's egg. Genevieve failed miserably and predictably when presenting the idea to Zoila.
While Valentina was open to the idea since she was needing money for school, Zoila convinced Genevieve to decline Valentina's offer and focus on Remi instead.
One of my favorite moments took place when Zoila told Valentina that she was going to sell the ring that Genevieve gave her to pay for Valentina's tuition. I loved how quickly Valentina ran to hug her mom as Zoila said that Valentina's only job was to grow up and be happy.
Elsewhere, Carmen was troubled by Alejandro's nonchalant reaction to Odessa's illness. He hardly reacted and this did not sit well with Carmen. I really liked how she convinced Alejandro to do the right thing.
Side note: Alejandro is quite charming, isn't he? I am hoping for a duet with both Carmen and Alejandro eventually.
Other Thoughts:
I didn't think it could happen before, but I've grown to really like Evelyn. She's far from one-dimensional and I actually felt for her as she broke down in Adrian's arms.
If you haven't heard yet, Devious Maids was renewed for a second season. Is it too early to say I'm stoked?
We are inching closer to the series finale. Who's at the top of your list for who killed Flora?
Don't forget to check out our Devious Maids quotes section.