Dr. Dani had no "Sympathy for the Devil" as she kicked a little ass in the Necessary Roughness season 3 finale.
Never let it be said that Dani Santino is a push over. Her first husband may have cheated on her, but once she broke those ties she proved more than capable of standing on her own. She's come a long way since the pilot episode of the series.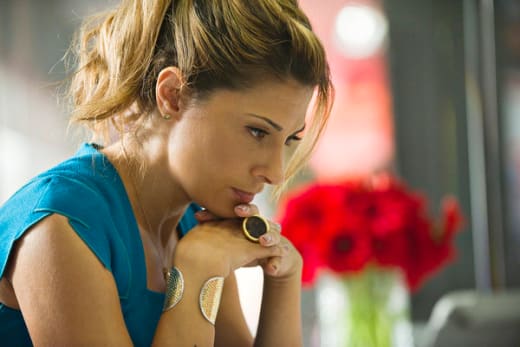 So when it came to standing toe-to-toe with Connor McClane, there was no doubt she could hold her own. 
The question was this: Was Connor an excellent salesman or a conman? The truth? He's both. Connor believed that to make it to the top, you had to break some rules. Unfortunately some of his clients - including Hutch, Crabcheck and his friend Carl - were collateral damage along the way. 
TK could have easily been next and his fiance Sheera seemed more than willing to watch that happen. The only love she had was for her five-year plan for stardom and TK's only value to her was his ability to help her get a step ahead. It was clear that if TK's football career was over, so was their relationship. 
Thank goodness TK finally saw what she really was.
Dani: You know that expression, love is blind?
TK: Then I must be the Stevie Wonder of romance. | permalink
TK was smart in both dumping Sheera and passing on the experimental gene doping. They might not be able to test for it now, but give it time. If it becomes prevalent enough, they'll find a way to test for it sooner or later and it could have left TK's career in ruins. As Dani told TK...
There's no greater bling than a man's reputation. | permalink
Sheera was obviously after the other kind of bling.
Instead, TK chose to go out in a blaze of glory and help his team get a step closer to a championship. He also may have pushed his injury to the point of ending his career. But it looked like India was determined to help him mend. 
Any chance there's a love connection for these two on the horizon? I hope so.
In the middle of counseling TK, trying to salvage Hutch's career and confronting Connor, Dani also had to deal with an unsettling revelation: Nico had a wife! Did anyone see that coming? I didn't.
Nico used his pull with the FBI to get her sprung from INS. In return, she granted him divorce papers for their marriage of convenience. But was that too little too late for Dani. The poor woman didn't even get 24 hours to bask in romantic bliss. It just wasn't fair.
And the look on Dani's face when she was introduced to Mrs. Careles was priceless. She rolled her eyes as though she was saying to herself that she should have seen it coming. 
As she told Nico in this Necessary Roughness quote…
You like riddles and secrets and mysteries which is awesome if I'm watching an episode of Lost but not when I'm in a relationship. | permalink
I was really concerned that these two would once again be separated. I couldn't be happier that they reconciled and we got a great Nico/Dani kiss with which to end the season. Now what's up with the private jet? Man of mystery, indeed.
Was the season finale everything you hoped for?  The USA Network has yet to confirm a new batch of episodes. Do you want to see a season 4 of Necessary Roughness?
C. Orlando is a TV Fanatic Staff Writer. Follow her on Twitter.