Sometimes all it takes is a little a human error and everything can go horribly wrong. It's not always just bad guys killing people.
"Neuropositive" chose to take a slightly different approach to the murder case and illuminate that not everything in life can be perfectly manipulated, whether good (in the case of curing cancer) or bad (accidentally killing someone). And, sure, this Perception episode took a twisty road bouncing from suspect to suspect, but the end result proved to be both tragic and a little refreshing.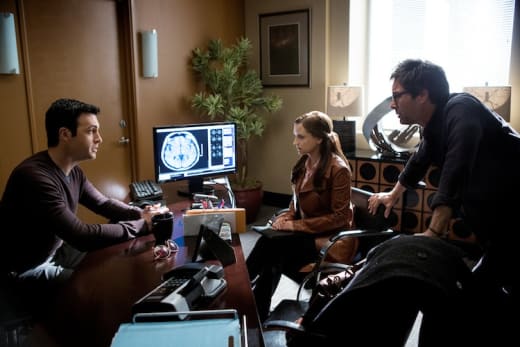 It's so easy for a show such as this to connect all the dots and eventually reveal the killer. The mother, her son, the wife, ex-girlfriend, even the shrink all had motive for killing. And I would have shrugged my shoulders at the conclusion because it was a been there-done that kind of deal
Except, the real killer turned out to be the nice handsome, potential (but not anymore) love interest for Kate Moretti, all because of a path of unfortunate events.
Yes, the original cancer patient (who turns out didn't have cancer) shouldn't have gotten off the hook, but it was positive seeing him try to atone for his mistake in accidentally killing a boy way back in the day. Whether the guilt did or didn't make him actually sick didn't really matter because the outcome for him was of forgiveness, even if it meant jail.
And, truthfully, that forgiveness paralleled Daniel's hallucination of his mother.
What could have turned into "the crazy mom and hijincks" episode was more of a personal look at Daniel, his relationship with his mother, and the man he's become.
The flashbacks were truly reflective of Daniel trying to do everything he could to save his mom  (which inadvertently made him more cynical later in life). But try as he might, there was simply nothing he could do - and sometimes that's simply the way the world works. It even gave us a reason us to why he can't stand Bach.
I know that Shane Coffey portrayed a younger Daniel before, but it was great to see him use similar mannerisms that Eric McCormick plays when he is Daniel. It really felt like we were seeing that younger version.
And I liked that while his mother forgave him, it really was simply Daniel forgiving himself. A rather touching moment and an important one for his character.
In fact, it was good to see an episode that initially seemed heavily rooted in neuroscience and the brain, turned out to more about the heart and making decisions based on it.
Poor doctor messing up the brain scans and accidentally shooting his patient. Sometimes things are simply out of anyone's control no matter how hard they try and control things.
This was a good hour of Perception that touched on the more emotional side rather than falling into a predictable trap of regular twists and bad guy. The episodes really are more enjoyable when they give us some good character moments, especially with Daniel.
Unfortunately, looks like Kate's going to need to keep looking for a new guy. Or hopefully, she'll try something other than dating sites.
Sean McKenna was a TV Fanatic Staff Writer. He retired in May of 2017. Follow him on Twitter.