I hate to be a viewer who complains week after week about the lack of progress on a show and then grumbles when too much stuff happens....
BUT what's the deal Pretty Little Liars?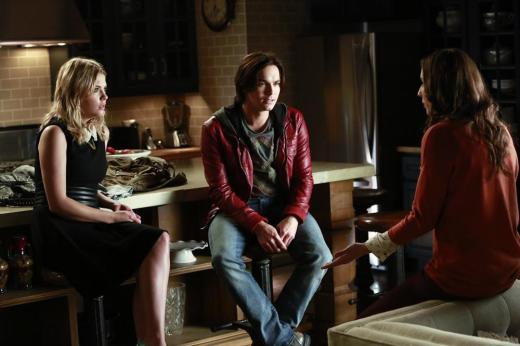 "The Mirror Has Three Faces" broke the routine of dull episodes and gave us a lot of information. In fact, there was a little too much crammed into this overstuffed episode. Can't the series parcel out interesting reveals on a more steady basis? Why do we always have to wait until close to the end of the season for anything to happen?
But I wonder: did we really make any progress tonight?
In preparation for World War A, the writers are really playing up the CeCe Drake angle. Caleb's sleuthing traced the Philly P.O. Box to a physical address, which Aria investigated. The girl moving out claimed the CeCe was her former roommate. More interestingly, the roommate claimed that Ali got CeCe kicked out of UPenn. Remember that incident from "The Bad Seed?" Alison seemed to yearn for a rival for Ian's attention down the stairs. Well, apparently, CeCe thinks all the liars were responsible.
And Mrs. DiLaurentis told Spencer and Hanna that the CeCe and Ali's friendship became toxic. Yes, Cali became rather codependent, trading clothes, makeup and even personalities.
Does that mean that CeCe is Red Coat? Has she been trolling around Rosewood in an Ali mask?
I think she has some very important information for the liars, but I'm not ready to call her Red Coat yet. Experience has taught me to not trust the information the show gives us.
In addition, we've gotten some pretty solid evidence that Wren should not be trusted. I already thought he was super sketchy after he made moves on both Spencer and Hanna, but now it appears that he's manipulating Mona's situation...but for who's sake?
Clearly, he set up Mrs. Hastings by going to "warn" her about Mona's intentions, and Mona suspects that his loyalties lie with the other side, but is he working for Red Coat? Or A? Perhaps he's part of the A-team or one of the many men that Red Coat uses to make the girls' lives miserable.
In other creepy news, Mrs. DiLaurentis discovered that someone was living under her house, as we saw last week, but only Emily noticed the holes drilled into the floor. Plus, it looks like Ashley's muddy Manolo's are going to show up at the Fields house. Will Ashley be returning to jail?
On the boring side of the evening, Ezra found out that Malcolm is not his child, so really what was the point of that plot thread? For her part, Aria seems committed to moving on with Jake, even ignoring Ezra's call. But now the biggest obstacle to their relationship has been removed, I'm sure it won't be long before Ezria returns.
Who else wants to see that take place?