"Bridget" was definitely a family-focused episode of Ray Donovan, as the Donovan brothers celebrated what would have been their sister's birthday 26 years after her death and Ray and Abby focused on their own Bridget's issues closer to home.
Terry had issues he needed to deal with as well regarding Frances; and he had his brothers by his side while Mickey discovered he has quite a bit to learn about the modern woman.
My biggest disappointment was the tease of Sully heading to California. So far we've seen bits and pieces of the great James Woods in his role but, for now, he's being kept separate from the excitement of the Sunshine State.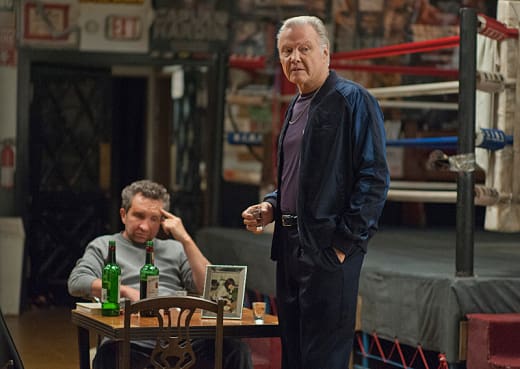 Although it actually crossed Bridget's mind that her father might have killed Marvin Gaye, Ray did something better than that for the boy who was getting just a bit too big for his britches. He took him home. Marvin was at his mother's house, reconnecting with the kid who had talent, remembering the pain and suffering from where it came and being artistic.
Of course, we knew Bridget was going to make her way there, but the real surprise was how Marvin handled it. Ray's move was the right one because Marvin's head was on straight. He realized what he had done was wrong and how easily he could have hurt Bridget. He made the call to Abby to let her know Bridget was there. It gave me hope both for Ray's sometimes inconceivably wicked ways and Marvin's future. Marvin thinks he'll never get back to Calabasas, but so far, he's on the right track.
Watching the Donovan boys have their day of remembrance over their sister helped to better understand their close relationship despite just how different they all are from each other. That loss will connect them in a way that nothing else every could. While what happened with Mickey, and Bunchy or even Terry's boxing career or Ray's move to California could have torn them apart, the death of their sister kept their bond very strong.
That was especially apparent when Terry finally got the truth from Frances about her husband. He's abusive and she wants to stay with him until her son is 18 - one more year. Terry is a devout Catholic and that rips him apart. The three of them pay the husband a visit and let him know what it feels like to be beaten, and afterward share a ridiculously touching conversation about 'daughter' Bridget and how kids need love and understanding. Their conversations are so real, which is what makes them so absurd. Real people have these asinine situations come up in life. There were a lot of Ray Donovan quotes of note tonight, and this one from the car made the list.
Terry: You're a hard man, Ray.
Ray: What are you talkin' about?
Terry: You gotta be careful with girls. You gotta be gentle.
Ray: (Laughs) | permalink
Mickey met an unnamed divorcee at a spa played by guest star Rosanna Arquette. For the same reasons I still find unbelievable, she was drawn to him in such a way that lead her to go home with him. Yes, he's Jon Voight in real life, but on the show he's crass Mickey Donovan. He's a poser and I am not sure I get the immediate glue that sucks people into his life. In any event, the poor woman ended up on the floor with a gun to her head, Mikey demanding a blow job because he thought she was role playing. Talk about 20 years in the can giving you the wrong impression of the future! 
The more we get to know Mickey, the more I know he's delusional, frightening and completely lost. Thank God we learned he's not devoid of emotion.
Ray is going to have to come clean with Abby about what happened in his apartment with Ashley. She's going to hold onto the vision of that handcuff in the bathroom like he holds onto the memory of his sister and Mickey's mistakes from the past. She smelled the sex on him that night - the least he can do is tell her Ashley is a nut who showed up and handcuffed herself to his bathroom and asked for sex. Hell, Ray lies for a living. He can lie about the rest of the night and what happened later. Just remove the thought of that handcuff from Abby's brain. She's searching for emotional honesty, not actual honesty. He seems willing to give the first.
A few more thoughts from the episode:
I really wish someone would have put some peroxide onto Bridget's belly, just to make me feel better. Because that just looked nasty.
Lena hasn't done much on the show, but I still love her interactions when they come and punching her lover in the face was priceless. The woman must be an idiot if she thought having Lena arrested would keep her homosexual love affair from her husband.
What was Avi taking to Arizona in the red bag? I must have missed something, but I couldn't place it, even after a second viewing.
What are the odds that Marvin's first big hit will be his self-produced video in front of his front door with the crime tape? It's gritty, real and coming from the heart.
I loved that the priest told Terry he was being too hard on himself. It's not often you get a good impression of a priest on television, but Terry went to a good one, who really cared about his parishioners. I hope Terry was really listening.
Ray and Bridget singing together as she went to sleep showed how daughters will always be daddy's little girl. Did we see just a little of that with Mickey's tear?
Carissa Pavlica is the managing editor and a staff writer for TV Fanatic. She's a member of the Broadcast Television Journalists Association (BTJA), enjoys mentoring writers, wine, and passionately discussing the nuances of television. Follow her on Twitter and email her here at TV Fanatic.