Pardon the obvious pun, but: Revenge will be back with a vengeance next month.
While some fans may have felt the show took more than a few missteps in Season 2, production is underway on new episodes and, from what cast member Gabriel Mann and various writers told me at the Television Critics Association press tour party, Revenge Season 3 will be one heck of a ride.
Here's a breakdown of what we learned: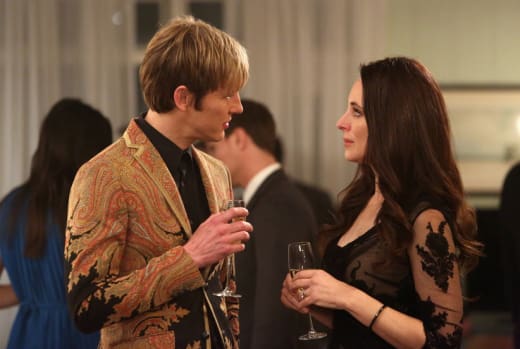 "Season 2 was really about destiny, which requires things to get big," said Sunil Nayar, who took over the showrunning reigns from creator Mike Kelley at the end of last season. "Our approach this year is to take all these 44 hours that we've seen up until this season and essentially have the characters ingest them again to see where they started, where they are now and where we really want to take them. When we analyze that journey, it's really rich, it's really delicious and I think it's going to be a lot of fun."
There will be a 5-6 month time jump at the start of the new season, explained Executive Producer Gretchen J. Berg: "This is the way to come back refreshed and ready to go. Everybody is going to be going through a lot of changes this year and so they're starting their journey in episode 301."
Executive Producer Aaron Harberts added: "Kicking off the first episode [we're] flashing forward with some of a big, shocking moment which involves Emily Thorne, of course. Then the next 10 episodes build its way back to that moment, which is going to be a lot of fun but we also have to figure out some screenwriting gymnastics to get back to that little corner we've painted ourselves into... but it's a good corner!"
Watch for Emily and Victoria to each go through big changes and maybe a bit of soul searching along the way. Nayar explained in the new season we'll see the ladies attempt to "identify what is it that they're scared of and what is it that makes them happy…"
How is Jack dealing with knowing that Emily is really his first true love, Amanda Clarke? "Emily is going to find that Jack, who she shared her secret with, isn't super pleased and isn't exactly waiting with open arms," Harberts said. In Jack's defense, Berg added: "It's a lot to digest if you really start thinking about what Jack has to process; it's a lot!"
Mann teased that Emily is going to be up against a "ticking clock" that's going to make her life anything but easy. "There's sort of a really interesting device that's thrown down between the characters of Emily and someone else that puts a ticking bomb on the season, or a ticking clock, certainly." While the actor couldn't reveal more, he did say that season is going to "blast out of the gate.'"
And who is that handsome stud alongside the Grayson matriarch? "When [Aiden] appears on Victoria Grayson's arm early in the season," Harberts leaked, "we're going to be wondering who he is allied with, which is really fun."
Are "Ems" and Nolan on the same page at the start of the new season? "Absolutely! I think they've come to a place of a really beautiful mutual understanding. They've even tossed the love word around with each other in whatever form you want that to take…they're in that place to begin with," said Mann.
Lest we forget that we last saw Nolan being arrested and heading to jail, Mann wouldn't reveal how long he'd be in the big house and - while he teased we will see Nolan in orange - he also said that Nolan's "absolutely going to be out and with a mission. He's now got his own reason beyond just his dedication to Emily to absolutely want to make Victoria Grayson's life an utter hell."
How is Justin Hartley fitting into the Revenge family? "He is so fantastic," Nayar gushed. "He's a dream. We added him and Karine Vanasse, who's playing this character named Margaux, and they're extraordinary actors and they also are just the same spirit as the rest of our cast. It's such a family…so I get to come enjoy this family and kind of be the leader of the family. We have a really great spirit going into the new season."
Charlotte grows up! "Emily is clearly very, very, very fond of Charlotte and wants to take care of her," said Berg. "But Charlotte is really coming into her own this year. She's no longer the young, little girl running around in her party dresses. She had a very traumatic end of last season and needed to grow up. So she's coming back with a fresh point of view in terms of checking out the people in her life." 
Are Conrad and Victoria on or off? While they may be sleeping in different rooms in the Grayson mansion, "it's fun figuring out ways to keep them together," explained Berg. One thing that will never change is that whether or not is there is love or hate in their hearts for one another, "they'll work against each other but they'll have to work together, too."
Revenge Season 3 kicks off Sunday, September 29 on ABC. 
Jim Halterman is the West Coast Editor of TV Fanatic and the owner of JimHalterman.com. Follow him on Twitter.