Oh? No.
In an interview with The Hollywood Reporter, original Grey's Anatomy cast member Sandra Oh has announced that she will depart the ABC series following its upcoming 10th season.
"Creatively, I really feel like I gave it my all, and I feel ready to let her go," the actress says "It's such an interesting thing to play a character for so long and to actually get the sense that she wants to be let go as well. [Cristina] wants to be let go, and I am ready to let her go.
"We have to start the process, story-wise, for the Grey's writers to think of why she's going to go."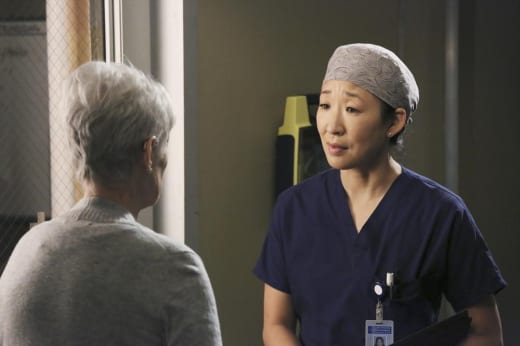 Oh, a five-time Emmy nominee, signed a two-year deal with the series in May 2012 and Shonda Rhimes recently said that she's prepared for other mainstays (including Ellen Pompeo and Patrick Dempsey) to also exit after Season 10, although Oh is the only star so far to make such a decision.
"I've gone through a lot of therapy over this," a tearful Oh said in the interview. "I started thinking about it because I had to prepare myself. I gave myself two years to emotionally let go. At the end of last season, Shonda took me aside and said, 'What are your thoughts?' I said, 'I'm ready.'"
ABC Entertainment President Paul Lee said at this summer's Television Critics Association that he hopes Grey's Anatomy will continue to run for "many years," a sentiment Rhimes has echoed.
So despite the emotional departure of Oh, fans can still look forward to plenty of action at Grey Sloan Memorial well beyond May of next year.
But it simply won't be the same for those who have watched the series since it premiered in 2005.
Grey's Anatomy returns on September 26 with a two-hour premiere. Just how much will you miss Oh as Cristina Yang?!?
Matt Richenthal is the Editor in Chief of TV Fanatic. Follow him on Twitter and on Google+.