It's that special time of the year, TV Fanatics.
With Peter Capaldi installed as the new Doctor Who, and The Pied Piper revealed on The Killing, we can go ahead and concentrate on what lies ahead: sharks, sharks and more sharks.
Yes, Shark Week is officially underway on The Discovery Channel, with every night this week set to be filled with numerous programs and specials dedicated to these dangerous creatures. Scroll down now and set your DVR accordingly...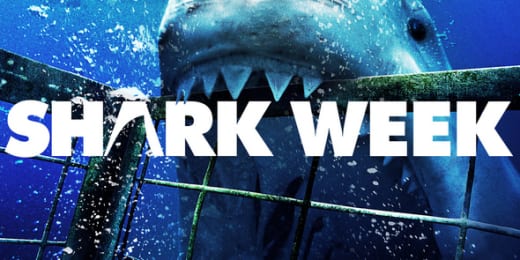 Shark After Dark, 11 p.m. every night: A 60-minute long live talk show hosted by comedian Josh Wolf celebrating all things sharks! Guests will include celebrities, shark experts and attack survivors.
Return of Jaws, tonight 9 p.m.: Chilling footage caught by the Shark Cam, which tracked Great White sharks living and hunting off the shores of Cape Code where Jaws was filmed.
Voodoo Sharks, tonight 10 p.m.: An investigation of the Bull Shark population that is now taking up residence in the bayous of Louisiana. Locals talk of a story about an even larger shark inhabiting the shallow swamps, which could be a brand new species.
I Escaped Jaws, Tuesday 9 p.m.: First-hand accounts from shark attack survivors, along with actual footage by onlookers.
Spawn of Jaws, Tuesday 10 p.m.: A special that tracks a team of scientists studying the life cycle and breeding grounds of the Great White shark using stage of the art technology.
Top 10 Sharkdown, Wednesday 9 p.m.: Updates the shark attack files for the 21st century and takes a more intimate look at the top ten sharks you don't want to be caught swimming with.
Great White Serial Killer, Wednesday 10 p.m.: Natural history producer and Emmy-nominated Jeff Kurr return with a new special about two fatal shark attacks near Vandenberg Air Force base in California.
Sharkpocalypse, Thursday 9 p.m.: Following one of the most fatal years of shark encounters, this will take a look at the scary trend of sharks moving closer to shorelines while debating if there is a connection between the dwindling shark population and the increase in shark attacks.
Alien Sharks of the Deep, Thursday 10 p.m.: Chronicles American and Japanese scientists as they explore the deepest and darkest corners of the ocean in search of some of the rarest sharks on the planet, including the ever-elusive Megamouth shark.
Great White Gauntlet, Friday 8 p.m.: The coast of South Australia is home to a rare sea snail called the abalone which is worth thousands on the international market. It's also home to one of the most dangerous Great White feeding grounds, so abalone divers have one of the deadliest jobs in the world. Great White Gauntlet follows a day in the life of this life-threatening career.