"She's Mine." And if Harvey's epic punch didn't send that unequivocal message to Stephen the snake, I don't know what would.
One thing's for sure, though: Harvey wasn't the only one laying claim to what was his on Suits this week.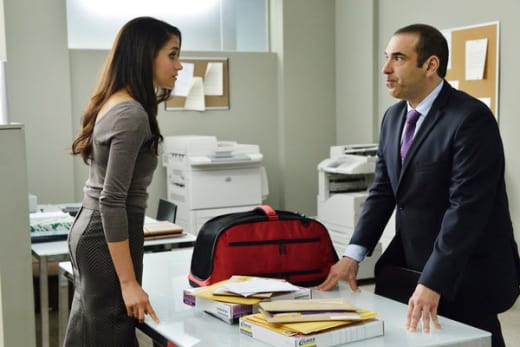 Perhaps the most outrageous and entertaining feature of this installment was the mock trial showdown between Nigel and Louis over Marcado, Nigel's prized cat. 
I knew Louis was obsessed with his recently passed feline, but I never expected him to get so attached to his temporary charge. I suppose once he told the story of going home, devastated over seeing Harvey's name on the door, and the love the cat showed him being a hard thing to give up... but I think we learned quickly that cats are not the only thing he cares deeply about.
And that's what i loved most about this interaction between Nigel and Louis, about them reconciling in a way that was unique and true to their characters and their dynamic. Clearly Louis found Nigel's kryptonite in his feline companion, but Louis' run-in with hostile Herald obviously reminded us of his Louis' love of his associates and the fact that his tough-love approach really does work.
The other added bonus to this was that we got to see Louis and Rachel team up again, with Rachel exhibiting her top-notch legal skills in such a way that even Harold was cowering a bit in his seat. She wasn't going to let him get away with anything on that stand.
Not only did she manage to get Louis a win, she gave him advice that in the end led him to make the right decision, one that he had really fought long and hard for beyond just their mock trial. Throw in an admit to Columbia Law School and Rachel Zane was clearly the one having the best week ever.
But just as we saw Rachel experiencing the highs of lawyering, her bestie Donna was experiencing the lows of relationships built on lies.
If Stephen Huntley were a real person, I'm pretty certain someone would have already shot him dead in Donna's name. What a snake! 
Did anyone else see something coming with him? I had a feeling that Darby's firm was going to be more sketch than they were painted to look like in the beginning, hence Harvey's reservations about the merger, but did anyone see the bombshell that Stephen ordered the hits that Ava Hessington is accused of?! I know I didn't!
Perhaps now things regarding this case will start to make more sense in the grander scheme of things, knowing now that there really is a villain here, and it isn't Ava Hessington.
I just hope that Donna can recover in a dignified manner. I'm sure she would do nothing less, but I have to admit, they were becoming closer than close. I thought they could go the distance in the right climate. But now those dreams are clearly dashed.
When it comes to defending her honor, and his for that matter, Harvey really delivered during that bathroom brawl with Stephen. Never have I ever seen a more well-dressed and attractive set of men fight in a public facility like that. All the explosive stuff happens in the bathroom on this show - and it's great.
Another set of great moments were between Jessica and Harvey. Despite the fact he's come clean about the plan he put in motion and promptly stopped, she still gave him an extremely hard time on the subject, as it should be. She may have been naive enough to believe that she couldn't be stabbed in the back, even by Harvey, but I hate it when mommy and daddy fight for an extended period of time. And I was hoping that the confession would lend itself to some level of reconciliation between the two. 
In some ways I think it has, given that they actually tried to talk it out a but on their rooftop spot. Then again, there's still so much they'll need to work through before they can gather the strength they need to combat Darby, who is clearly going to angle for some such confrontation in the future. I mean, Jessica practically sounded the warning cry.
Do you think our favorite firm can survive anther all-out war between partners?
C. Charles is a TV Fanatic Staff Writer. Follow her on Twitter.