The new season of Survivor - subtitled "Blood vs. Water" - will pit loved one against loved one.
But in case that alone is not enough of a twist for you, Jeff Probst and CBS have revealed a number of new rules and stipulations that are sure to the castaways we meet on the Sunday, September 29. To wit:
The season will be comprised of 39-and-a-half days, kicking off with "Day Zero," where 10 pairs of loved ones will be sent out to different locations at sunset. "The whole idea was to try and get them thinking and maybe believing that they would play as a pair," Probst tells EW.
The loved ones will then be split into two tribes, with returning players on Galang and their heretofore believed-to-be partner on Tadhana.
Redemption Island will return after three seasons, this time revolving around a three-person contest in which the last-place finisher is sent home.
Contestants will be permitted to swap places with their loved ones in these duels.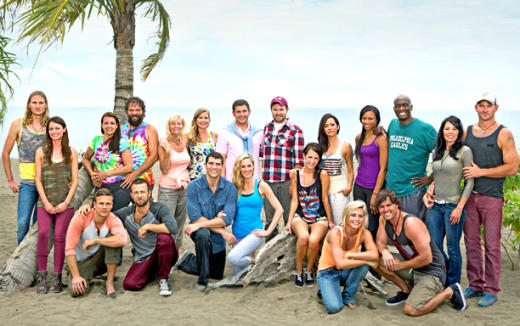 As for the actual cast members? They are pictured above and described below:
Colton Cumbie (Survivor: One World) and his fiancee.
Gervase Peterson (Survivor: Borneo) and his niece.
Tyson Apostol (Survivor: Tocantins and Heroes vs. Villains) and his girlfriend.
Candace Woodcock (Survivor: Cook Islands and Heroes vs. Villains) and her husband.
Kat Edorsson (Survivor: One World) with boyfriend Hayden Moss (Big Brother Season 12 winner).
Monica Culpepper (Survivor One World) and her husband, Brad Culpepper (former NFL player).
Aras Baskauskas (Winner of Survivor: Panama) and his brother.
Rupert Boneham (Survivor: Heroes vs Villains, All-Stars and Pearl Islands) and his wife.
Laura Morett (Survivor: Samoa) and her daughter.
    Tina Wesson (Winner of Survivor: Australia) and her daughter.
Matt Richenthal is the Editor in Chief of TV Fanatic. Follow him on Twitter and on Google+.