There were a lot of big decisions made during "Departure of Summer," as the Switched at Birth episode set things up nicely for a brand new season this winter.
There aren't a lot of answers left dangling, but rather new beginnings to think about. People made tough, life-altering choices that put the thoughts of others before themselves. It was an inspiring episode.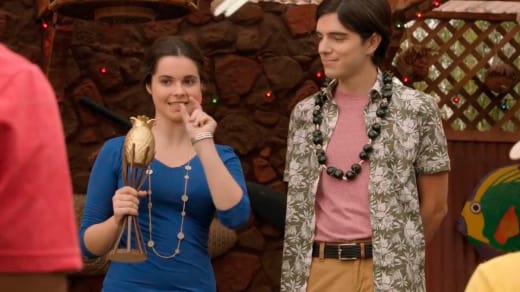 We got an ending to the Toby and Nikki wedding saga; Genise got her wish when they went off, had sex and didn't go to hell; and and Nikki got to wear her dress when she and Toby married at the courthouse. Emmett was right at the rehearsal dinner: If they truly loved each other and wanted to be together, they couldn't let that moment pass and risk losing each other. They also couldn't stand in front of their family and friends if they didn't share in their excitement of their marriage. So they did it their own way.
I imagine they will face obstacles, but as they've faced so many hurdles together, they'll manage to jump them together and get through. Not every young marriage makes it, but not every one fails either. I'd like to have faith that this one will work.
Will seeing Ty walk out the door be the last we see of his character? He certainly did what he could to drive away Bay. I don't know if it was admirable that he cut her loose due to her young age or cowardly to let her believe he cheated on her and not tell her the truth like a man in love with a young woman should have done. I can see both sides of the issue and I really can't decide. 
The way it is now leaves the door open for many things: his return, his death, the truth to come out when either of those happen, her reuniting with Emmett and having to deal with any of the three prior thoughts and a tainted friendship with Marybeth. Bay throws herself into things with her whole heart and soul and Ty knew that. Maybe he did pick the easiest way to let her go, knowing she had her friends there to support her.
I'm saddened that Angelo was unable to make it work with his daughter, but happy he decided on the Three Men and a Baby scenario. He'll get to know his daughter and she'll have three loving fathers. Yes, it's a little strange, but this is a new world and there are lot of women in Angelo's life that are sure to make some hell out of that little girl's along the way. 
Finally, I never imagined that Senator Coto would think John was the mastermind behind the break-in into his office. It really showed just how blind he was to the affairs he was having. Not just of the heart, but in all matters of his life. Coto was completely ignorant that anyone would truly find him despicable enough to just want him to stop being an ass and that the agenda had to be a big conspiracy. As his phone rang off the hook at the end, I'm sure he was double thinking overlooking the little pieces of his world and jumping to the big guns.
We'll roll into Switched at Birth Season 3 with fresh story lines, a new school year, a young marriage in progress and who knows what else. What did you think of the Switched at Birth Season 2 finale? 
Carissa Pavlica is the managing editor and a staff writer and critic for TV Fanatic. She's a member of the Critic's Choice Association, enjoys mentoring writers, conversing with cats, and passionately discussing the nuances of television and film with anyone who will listen. Follow her on Twitter and email her here at TV Fanatic.