It took some time, but all the seemingly unrelated threads on The Bridge have come together to create a nice and neat bow. 
Okay, it might not be nice or neat, but the killer now has name thanks to Sonya's diligence. And the viewers were let in on the reason behind his "Vendetta" and his chosen targets. There's still much to be figured out, but this hour was a positive turn for the series.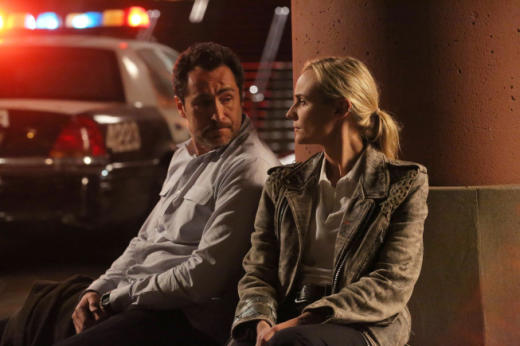 The Bridge took a slow route to get to the reveal of David Tate as the killer, but it was well worth the wait. When the season is over, it would be interesting to go back from the beginning to watch the mystery unfold all over again.
While Childress is a killer, he's not the one that Sonya and Marco were chasing. Instead, he was the key to unlocking the real Man on the Phone. If it wasn't for Sonya's continual digging into the case, David Tate may have gotten away with it. Well, except for the whole leaving a bloody hand print behind. He wants to make people pay and that includes making sure they understand why they were targeted.
This is what we know so far: David Tate investigated Childress and set him up to be the fall guy by using his writings and leaving the stolen vehicle behind at Dr. Meadows' house. At this point, Childress doesn't seem to be apart of the vendetta, rather an easy target.
David Tate was partners with Gedman at the FBI and a patient of Dr. Meadows. His vendetta began when his wife was killed by a drunk and drugged up Santi, Jr. in Juarez. To make the situation even worse, she was heading there because she was having an affair with Marco. Tate then faked his own death.
While it's pretty clear that Tate is responsible for the deaths of Gedman, Dr. Meadows, and now Santi, Jr., it's unclear if he is also responsible for the dozens of other deaths in Juarez. Or, what his motivation would have been to kill them.
Even though Marco slept with his wife, Tate didn't kill Marco when he had the opportunity. His torture of Marco is much more personal. Tate's sleeping with Marco's wife and is with her now after killing Santi. Will he harm her? Or, does he truly have feelings for her even if messed up ones? I worry that since Tate knows she's pregnant with Marco's child, that he may cause harm to the baby.
Though, perhaps the worse punishment would be to run off with or kidnap Marco's wife and disappear. Now that Tate's left a clue of his identity behind with the bloody hand print, it's only a matter of time before the police are after him. And, since he killed Santi, Jr., he will be running from powerful and dangerous people in Juarez too. 
The last five episodes of the season should be a whirlwind ride to chase down Tate before he harms more people. Plus, there's Charlotte, Ray and the tunnel to be found out. Graciela isn't going to take kindly to finding tracking devices on the guns. Charlotte and Ray are headed for life-threatening troubles.
And, the mystery of Linder continues. What is he doing? Why? And, will he go against Fausto to save a girl? 
Were you shocked by how quickly the pieces came together from one clue? What will Tate do with Marco's wife? And will Charlotte's storyline and/or Linder's tie into the larger mystery?
Carla Day is a staff writer for TV Fanatic. Follow her on Twitter and on Google+.