This was it. That final play that would either seal the deal for The Killing as a season worthy of its return... or collapse like a cardboard box under all the pressure of trying to close the lid on such a solid set of episodes.
Wonderfully, "From Up Here; The Road to Hamelin" delivered not only the actual identity of the killer, but-  through a riveting two hours - the right dose of humor, some solid surprises, a tragic twist and a final shocking gun shot that closed the case of "The Pied Piper," yet left the door wide open for Linden and Holder's journey to continue.
I'm glad all of the core characters had their stories pretty much wrapped up before hitting that final course of focus on the killer.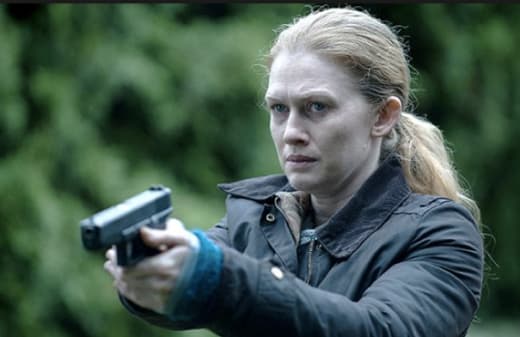 Really, the end result of Seward's death in "Six Minutes" and ultimately the arrest and probable conviction of Joe Mills allowed those side characters to move on with their lives.
Where Becker chose to leave and escape the prison life, Henderson seemed to embrace the job, even if over the course of the season, he seemed least likely to stay. At the same time, there was nothing suspicious or an attempted fake out for these two.
Similarly, Lyric tried getting a real job working at a fast food joint, but the life of the street girl just couldn't seem to leave her. Luckily, there was some hope for Twitch who threw away his drugs. With a sigh of relief, there was at least the possibility that he might make it out.
As for Kallie's mom, a parent who essentially neglected her kid, had grown with the tragedy. The experience opened her eyes, but there was definitely recognition that she did care for her child, even if it turned out to be too late.
And once again, none of these three were tossed in as last minute suspects.
I had thought that perhaps the episode would reveal two killers in both Reddick and Skinner. It seemed possible enough and would be an interesting twist.
Thankfully, Reddick managed to find himself in the clear, but not until after Holder made a bomb threat on his former partner's car. (Holder with internal affairs was hilarious, but really when is watching Holder not entertaining?)
I really liked Reddick this season, and even down to the wire, he stuck true to his character, even helping Holder out as the minutes of the episode dwindled.
So, Skinner turned out to be the killer, not just of the 21 girls the police discovered, but admittedly, to many, many more. It was a sick revelation not only because he believed the girls he murdered to be just crack whores or "human garbage," but it was the ultimate betrayal for Linden.
That sliver of hope for Linden to have a love, to have a relationship was shattered when she discovered Kallie's missing ring. It was a fantastic tragedy that put Linden on the path towards a rather dark end.
On the one hand, I loved the car scenes with Linden and Holder that further enhanced that great relationship between the two. Linden was smiling, Holder was cracking "1-900" jokes and the two were in sync. It even led them to figuring out the identity of the burnt girl, and finally Skinner (even if separately).
It's funny because I haven't really talked much about Skinner throughout the season, mostly because he was there, but it was never anything that seemed out of the ordinary or something that just came across as bad or forced.
Rather Elias Koteas brought a real quiet and often comforting tone to the character of Skinner, especially with Linden. Of course, some things turn out to be too good to be true.
When it came down to it, that subtle acting matched with almost a whisper of speaking became creepy and magnified the horrors Skinner committed. He was so calm in his mannerisms, while manipulating Linden to take that drive. And I appreciate that his reveal didn't turn his character into an over animated clown.
While the whole interaction between Linden and Skinner wasn't a chase scene, it was mostly just conversation - and it was engrossing conversation for sure. I was trying to anticipate what direction the show would go next. And it was great that the discussion between the two helped wrap up why Seward's wife was killed.
But the last scene really solidified not just a great episode, but a great season. Skinner's almost taunting speech about Linden's love for him and practically coercing her to shoot set the tension on edge.
I thought it would have ended with Holder coming in right on time, preventing her from killing him and simply taking the bad guy to jail. Case closed. Simple way to end it. Nope. Not The Killing.
Linden fired the fatal shot, leaving a distressed Holder and a dead Skinner. And, boy, that somber and stone cold look on Linden's face before everything went black? Fantastic.
In a two hours that could have easily dragged and become bloated, the finale of The Killing Season 3 found a way to be compelling and exciting, focused on the characters as much as finishing the case, and providing one heck of an ending.
AMC made the right call in bringing the series back, and I can only hope that it does it again next go around. I'd gladly stand in the rain to soak up a season four.
Sean McKenna was a TV Fanatic Staff Writer. He retired in May of 2017. Follow him on Twitter.