Terry was laid to rest this week, as his friends and family took turns sharing how much the man meant to them. Elsewhere on "Life Matters," Eric and Bill each helped put an end to the vampire camp.
Terry's death was tragic, but his funeral was a testament to all the lives he touched. Through the series of flashbacks, we were reminded just how broken a man Terry was when he returned from the war. Bon Temps has seen more than its share of death in recent years, but tonight we witnessed how some bonds are able to survive even the most troubled of times. Just about every person who spoke on Terry's behalf has been through their own personal hell over the years.
As they spoke about their fallen friend, we saw just how strong they each have become through their perseverance.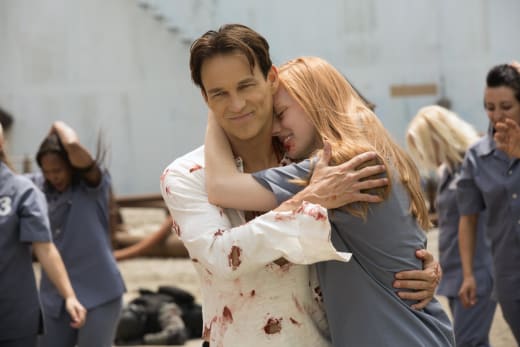 The one individual who has been through more than most, Sookie, proved just how much she has grown. She stepped to the podium and outed herself in front of her community, all in the hopes of giving her friend Arlene some peace, as she shared with her the story of the first time Terry his love. Sookie has embraced her gift and finally understands why it is not a curse. 
Big John has always been there in the background, yet tonight he took center stage, singing the song highlighted by the episode's title. Even in a place like Bon Temps, life still matters. As Big John sang, we saw Jason chase down Sarah and while he had every reason to kill her, he didn't. Like Terry and the catfish, Jason let her go. 
Lucky for fans, though, Eric and Bill didn't let their consciousness get in the way of taking their revenge on those responsible for the torture and murders at the vamp camp. Eric ripping out the doctor's manhood and leaving him to bleed out - only to have Bill finish the job - was one of the most intense death scenes to date. Bill then fulfilled his destiny and enabled Jessica and the others to meet the sun again and avoid the True Death. It was a tad anticlimactic, but the shot of him being fed on and then laying in Violet's arms like Jesus in Mary's after being taken down off the cross was well done. 
Eric also gave fans what they had been hoping for as he ripped through the guards on his way to freeing Pam and the others. While his freed friends danced in the glow of their fairy blood induced elation, he lagged behind, still unable to find any peace. The scene where he stood before the restraints and gurney where Nora was held and injected with the hep-v, showed just how much he was still hurting inside. So as much as it hurt Pam to see him fly away at the end, I think it was understood that Eric still has work to do. Not just to help save his kind, but to make his own peace with the losses he has endured. Killing Steve was just the beginning of his healing process.
Some of my favorite moments of the episode were:
Jason high on Eric's blood mocking the dead guards and pretending to high five them. 
Eric recognizing Ginger's scream. 
Lafayette's lashes at the funeral as well as getting to see him back in the day teaching Terry how to dip the fries. 
Things I could have done without:
Having to see Tara's whacked out mother again. 
Grandma Bellefleur uttering one too many a line as she didn't see the point of Big John's song. 
Arlene telling Big John his song was "the shit."
It was nice to see Alcide and Sookie side by side again and to also hear that Hoyt was doing well. I was also happy to see Arlene find some comfort in the whole military send off honoring Terry after not expecting to do so. For a short while, the town of Bon Temps was able to shut the rest of the world out and come together. Jason not being there, however, reminded us that while life seemed to stand still there for a few moments, the rest of the world is still at war - and there is still a long road of conflict ahead for humans and vampires to travel down. 
Warlow and Sookie still have unfinished business, Jason's new fan Violet still is thirsty for more and Eric's whereabouts are unknown. What are your hopes and expectations as we approach the end of True Blood Season 6?