If Wilfred Season 3 doesn't end in some sort of satisfying revelation, all of this build up will be extremely disappointing. For four episodes now, mythology has been at or near the forefront - and that was no different in "Distance."
Our good friend - or Wilfred's good friend - Bruce returned, played wonderfully creepy once again by Dwight Yoakam, and he helped confuse us all once again.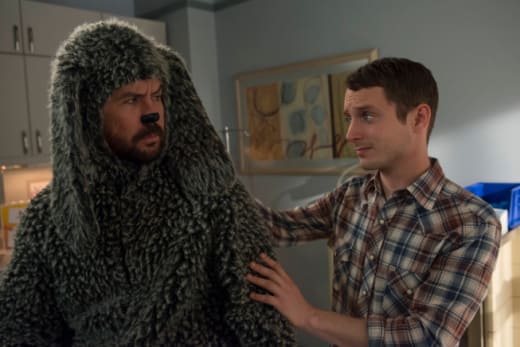 How does he converse with Wilfred? Why does he see him like Ryan does? Is he imaginary as well? Is he actually living with those two ladies? What does it tell us about Ryan's sanity?
Other than getting all upset about not ending up with a delicious meatball, Bruce's best addition to the half hour was his first mind game with Ryan, in which he faked a suicide attempt.
When he started screaming "Without Wilfred I have no purpose!" and then fake shot himself in the head, I believed it. Yeah, I'm super gullible, but it was an explanation I was okay with. Bruce - in some way - was dependent on Wilfred. I was okay with that. We could have moved forward from there.
At the end of the day everything was just a mind rape by Wilfy and Bruce, and then a reverse mind rape by Ryan, but it is all leading to something big. It might not be until the season finale, but it's coming. What that symbol on the drawing has to do with it I have no idea!
"Distance" was also filled with plenty of laughs. Take a look at some of our highlights below, hit up our Wilfred quotes page and then let us know what you thought of this week's ep.
Wilfy's excuses for what he was carving into Ryan's door.
Have you ever seen Bruce alone in a room with a mongoose?
Ryan's knocking on the table freaking Wilfred the heck out.
Wilfred's contacts (Guy - 1 through Guy - 259, and "Bruce MCcombs")
Dick Punch Fight!
Dan Forcella is a TV Fanatic Staff Writer. Follow him on Twitter.