Winter is coming to Boardwalk Empire, as Season 4 opened not in Atlantic City but in Warsaw, Indiana.
If learning it was home to the second longest contiguous brick wall in the world wasn't exciting enough, we also got our first glimpse this season of Richard Harrow doing his thing. The opening scene of "New York Sour" set the tone for the rest of the episode, which was cold and dark... but also a very entertaining start to the new year.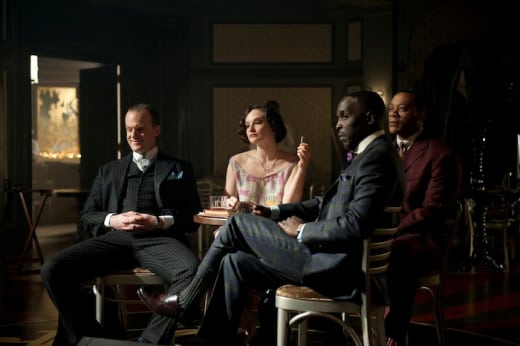 Following the massacre at the Artemis Club, it appeared Richard had been doing what he does best and making some money to boot. How interesting it was to see him hide his gun in the wood pile only to have his sister get the drop on him with hers.
Before he left, Richard saw to it that Tommy was left in capable hands, but a heroin-addled Gillian was doing her best to change that. Gillian has been on a downward spiral for some time now, but perhaps the addition of Ron Livingston's character will provide some stability in her life. 
Back on the boardwalk, Nucky met with Joe Masseria and Arnold Rothstein to try to broker some peace between the three heads of "industry." It was a tense meeting of the bigs, the main objective of which was for Nucky to get some peace of mind. There were other story lines in play though as well, such as the strained relationship between Lucky and Meyer and the fragile understanding Arnold and Nucky possess. Nucky made the claim that he was only interested in keeping his little piece of the pie, but appeared to have his eyes on a new opportunity, as we saw him looking at that proposal later on. 
Chalky finally got a taste of what he has been seeking for so long, only to have Dunn Purnsley put it in jeopardy by thinking with the wrong head. It's hard to be too mad at Dunn. I mean, Dickie's wife drew a pretty good picture. After being lured into the couple's twisted game, it was hard to fault his reaction after seeing the position he found himself in. What was one of the more brutal and violent scenes of the episode gave way to one of the funniest, that being the fun Chalky and Eli had with D.P. as he was disposing with the body. 
When it came time for Nucky to get rid of a body of his own, all he had to do was send in Eddie. So glad to see Eddie back on his feet. I loved how he just told Nucky's guest she was supposed to leave when she asked him what she was supposed to do.
In Chicago, we saw Al Capone get heated about his name being misspelled in the local paper. This story line seemed to pick up where we left off last season, in that we again saw Torrio shying away from the spotlight and the risks, while Al still nursed that chip on his shoulder and craved more notoriety. 
Even the federal agents on the take were at each other's necks as we saw Stan betrayed by his not so naive assistant. 
With the summer crowds gone along with the warm weather, the stage was set for a dark and bitter winter ahead for the locals. What are your hopes and expectations for the new season?