We're just one week away from the return of Bones.
And as this long-running hit enters Season 9, things are uber-tense with Booth and Brennan still working together, despite him breaking off their engagement without an explanation last May, per the order of a certain serial killer.
Having enjoyed a sneak peek at "The Secrets In The Proposal," I thought I'd tease fans with a True/False quiz, the answers to which you'll only receive by watching next Monday's Bones Season 9 premiere. So scroll down now for a few hints on what may (or may not!) go down and tune in on September 16 for the answers...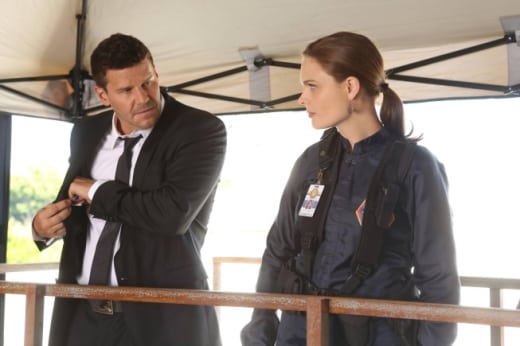 Booth meets with his former priest and decides to leave the FBI and become a man of the cloth.
Three months have passed and Booth is still trailing Pelant. 

While Cam is more tactful with her concern over Booth/Brennan, another Jeffersonian staffer is more blunt to Booth about the breakup.

Christine has been aged up and is now a high school Squintern at the Jeffersonian.
Another Bones gross out moment comes in the form of body parts and an air conditioning unit.

We meet Freddie Prinze, Jr., who plays an old flame of Angela's.

To stay out of Pelant's surveillance, Booth and his former priest meet in a steam room to talk over his relationship woes with Brennan.

One of the Jeffersonian team references a new Fox series.
We find out that when they were together, Daisy and Sweets had a lot of sex!

Terre Haute, Indiana gets a shout-out, which is cool because I was born and raised in South Bend, IN!

Psychology versus Science is discussed in regards to love.
To learn the answers, watch the Bones season premiere on Monday, September 16 at 8 p.m. on Fox.


Jim Halterman is the West Coast Editor of TV Fanatic and the owner of JimHalterman.com. Follow him on Twitter.