Tonight's penultimate episode of the Devious Maids Season 1 put us one step closer to what will surely be a finale to remember.
Hands down, this has become my favorite guilty pleasure of the summer. Week in and week out, it's left me wanting more and seemingly questioning what really happened to Flora.
So, what went down on "Getting Out the Blood"? Let's discuss…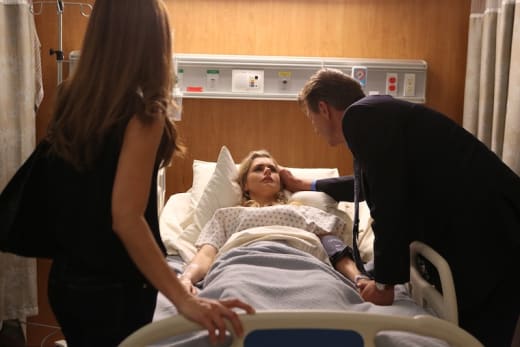 For starters, I wasn't surprised that Remi confronted Philippe and accused him of killing Flora. With Marisol continuing to dig deeper, Taylor also kept telling Michael about her particularly intriguing questions.
I'll admit that it was hard for me to believe that Philippe could be evil because I constantly think Eric Camden every time I see him. However, this instantly changed when he ordered a hit on Marisol.
I had a feeling that the shooter would mistakenly shoot Taylor instead of Marisol. I hated that I was right, and was worried that we'd find out she wouldn't be just fine next week. After all, I have truly enjoyed the bond that Marisol and Taylor share. It looks like she will be all right though in the picture above. However, will her baby be okay?
Elsewhere: poor Rosie! I really felt for her as she was torn after Spence's proposal and Peri's act of kindness. Luckily, she's with her son now and I loved seeing her so happy. I am only concerned that there will be legal issues and her happiness will be short-lived.  
Other Thoughts:
I can't say that I was shocked when Zoila convinced Remi to write a note leaving Valentina behind. Like I said last week, I know she means well. However, I don't care too much for her always wanting to control everyone and everything around her.
Evelyn wants to divorce Adrian. How's he going to stop her? I know he treats her badly, but I would certainly miss these two's snarky conversations. 
I've got to hand it to those who left comments just last week suggesting that Carmen would be Alejandro's beard. Sure, it was a bit predictable, but it will be interesting to see if Sam (yes, he's back!) agrees if it's a good idea. I'm betting no. 
I don't think I've ever laughed so much before this installment. It was filled with awesome and unforgettable moments. Be sure to check out our Devious Maids quotes section for a laugh or two.
Overall, this was a very strong episode with a shocking ending. Get ready for next week's season finale when we'll finally find out what really happened to Flora. Is Philippe more guilty than ever? Share your thoughts in the comments now.