We've waited all summer long to find out who killed Flora - and last night's Devious Maids Season 1 finale delivered the answer and much more.
Who would have guessed we'd also get an unexpected death along with a shocking ending? I absolutely loved that the writers allowed us to see exactly what went down on the night of Flora's death. Thanks to the Powell's, Eddie is free and Philippe is dead.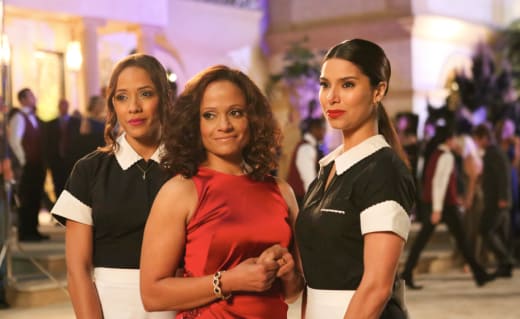 It was fun seeing the Powells unite; it just wouldn't be the same if they were apart. Moreover, I was glad to see that Marisol finally came clean to Zoila and Carmen. The maids are always better together.
Elsewhere: Odessa was back and admitted to having feelings for Alejandro. That was a no-brainer. She became upset when Alejandro told her that he was going to marry Carmen. Rightfully so, Sam gave her an ultimatum when he found out the same news.
I get that your career is important and it's a fake marriage that will only last two years, but come on, Carmen! You're smarter than that. I really hope she doesn't go through with it and does the right thing. I'm not sure if she and Sam are meant to be, but she could so have both love and a career. In due time, I think she'll find out she doesn't need Sam nor Alejandro's contract. That girl's a fireball and something tells me she'll land on her own two feet just fine.
Speaking of doing what's right, Zoila told Valentina that she orchestrated Remi's note and leaving her behind. Of course, that sent Valentina off with bags packing. Honestly, I couldn't blame the girl. Sure, mothers might sometimes know best, but Valentina is not a little girl anymore.
Another person who wanted to make amends was Spence. When he told Rosie that he wanted to give everything to Rosie by marrying her and adopting Miguel, I thought that dream was just all too picture perfect. Peri heard every single word and shockingly had Rosie deported.
Other Thoughts:
I had a feeling that Taylor and Michael would lose their baby. I hated to see that this prediction actually was exactly what happened. I imagine that we'll see both Taylor and Genevieve struggle next season coming to terms with both of their losses.
Genevieve had some awesome one-liners. Be sure to check out our Devious Maids Quotes to rehash every single one of them.
I know that Peri is awful. However, I find her hilariously self-centered and obnoxious. She plays the part so well. I shouldn't have been surprised that she would have Rosie deported after a rude awakening, but I guess she really is that vengeful.
Overall, this was a great way to end a stellar season. I'm pumped to find out what happens next to Rosie and the rest of the gang. What did you think of the "Totally Clean?" Will you be returning next year?