Devious Maids took a break last Sunday, but returned last night with yet another strong episode that kept the maids as busy as ever with their seemingly messy lives.
While "Hanging the Drapes"  left off with Olivia attempting suicide, we learned in "Cleaning Out the Closet" that Olivia was still alive and recovering at the hospital. Moreover, Marisol was caught eavesdropping by Taylor while Michael was on a call.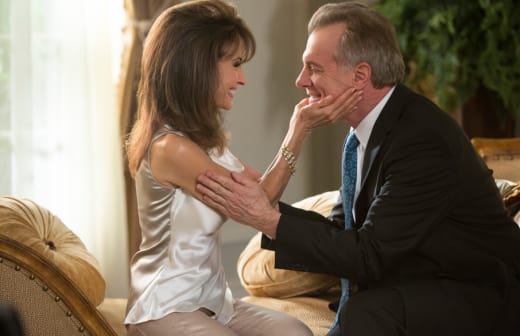 Elsewhere, Rosie cleaned up a mess for Peri when she hit a jogger while driving and didn't bother to find out if he was okay. Thank goodness for Rosie, as she checked on the man and called the police. Rosie realized that Peri was an entirely awful person and said she was completely done with her. She would stay for Spence and the baby, but that would be it. 
While Rosie told Spence that she wanted him to leave his wife and for them to be together, Peri strived to make it up to Rosie by trying to fly to Mexico to bring back her son. I am betting it will be easier said than done for Peri and I wonder if her intention will be enough for Rosie's forgiveness.
Meanwhile, Alejandro and Carmen disagreed about his new relationship when Alejandro's boyfriend wanted to move in. The new beau was helpful and loved to clean. This was exactly what Carmen needed while Odessa was still out.
Unfortunately, Alejandro didn't care enough about the new guy and asked Carmen to break up with Scott for him. I thought this was totally jerky and had a feeling that Scott messing up a room in Alejandro's home was just the beginning of his revenge. Scott went straight to a gossip magazine and Alejandro's secret will soon be out.
As Philippe and Genevieve grew closer, Zoila's distaste became more evident with every scene. Rightfully so, Philippe hadn't changed a bit and I can't help but wonder why Genevieve is so unbelievably needy. I think it'd be interesting to see her without a man by her side just for a moment.
Regardless of Remi punching his dad and even Zoila's disapproval, Genevieve and Philippe are engaged.
Other Thoughts:
A commenter mentioned recently that Philippe could possibly be Flora's murderer if Remi got Flora pregnant. This was exactly what the writers were hinting. What do you think Remi whispered to his dad? Is Philippe Michael's client?
Also, Michael asked Taylor to keep a closer eye on Marisa. Something tells me if push came to shove, Taylor might side with Marisol.
I know that Zoila means well, and she is mostly right. However, sometimes her demeanor of knowing it all really bothers me. It just seems like she is constantly telling others what to do.
Did you miss Adrian and Evelyn? I did.
Don't forget to check out our Devious Maids quotes section!