While I'm still not enjoying Haven Season 4 nearly as much as previous seasons, "Bad Blood" gave us a rope to cling to while we dangle in the middle of the lake, awaiting a time when all of our characters can once again be in one location.
We had a few different elements interweaving to tell our tale, and while there wasn't a lot of suspense leading up to the final minutes of the hour, it had a rather satisfying conclusion.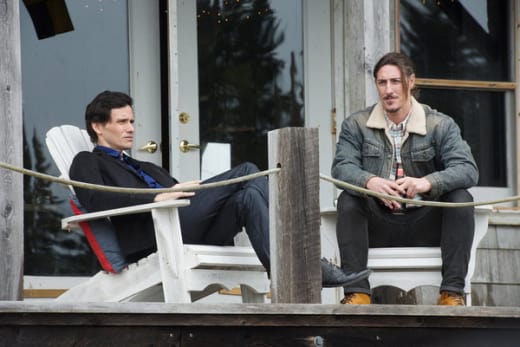 Nearly everything that I said in my previous reviews this season remain true. Duke is still the thread holding the show together. He's more like a nice, strong fishing line. He is wrapped around the lives of every central character in some capacity and his ability to empathize with each of them in different ways is admirable and grounding. He has gone from the town bad boy skirting the wrong side of the law in earlier years to great boyfriend material. I want a Duke Crocker.
Jennifer was doing just fine after she stopped taking her meds with the possible exception of being kept up at night by Wade's hard partying. It was kind of funny to see Duke act like a right proper citizen while his older brother painted The Grey Gull red and wanted in on any nefarious dealings Duke might be planning. Duke just wanted to protect him from becoming tainted with the family Trouble.
At first I thought maybe Duke was keeping his Trouble a secret from Jennifer because she might want him to soak it up, and he couldn't risk her losing any connections to Audrey. Of course I was wrong. He was worried about frightening her and her reaction to him. I'm glad they didn't drag out Jennifer's confusion over whether or not she was actually crazy or had begun a new connection to Audrey. She finally heard a very distinct conversation that let her know Audrey (or whoever she is) is most definitely alive.
The tease of Vince and Dave driving to New Hampshire and the cutaway scenes between them identifying the body and William and Lexie discussion her state of being didn't throw me, nor do I think it threw any of you. Haven viewers are more intelligent than your average bear. It was sweet to remember how Vince felt about Audrey (Sarah/Lucy/Lexie), however.
Now we know William is the new Agent Howard, or an equivalent. The Barn (Bar... good one) has been self destructing all this time and the being who is masquerading as Lexie is stuck inside. She made it homey in there by enveloping herself in a new identity and a bunch of friendly faces. I could be completely off base, but I think her best friend and roommate in the bar looking like Jordan will play out at some point in bringing the two of them together. They cannot always be arch enemies, and I don't believe it was ever the writers' plan that they remain so.
If they don't make a move soon, she will be lost inside the Bar and die within it. I liked this Haven quote:
Lexie: Tell me, if I'm not a bartender, then what am I? Am I some kind of secret agent? Is that my job in Haven? Huh? Is that what I'm supposed to remember?
William: It's not just remember who you were, you've got to remember where you are.
Lexie: Why don't you just tell me.
William: You're not ready. | permalink 
I think it was telling in that it was more important for her to remember where she was. Since she has been so many different incarnations of a self, where she has come from must come first. If the Bar(n) implodes and leaves Sarah/Lucy/Audrey/Lexie a mortal human being without that place to escape to, rejuvenate and return, I hope we learn who she is. Not the various skins and personalities she has adopted through the years, but why she has this Trouble and how and when it started. Until we know the answer to that mystery, we'll never know her true love, whether it be man or beast or idea or any other number of things, nor how she can destroy it and end The Troubles forever.
Honestly, my favorite scenario would be for her to emerge from her cocoon with bits of all four personalities encapsulated within one body. All of the memories. All of the loves. With the Barn gone, wouldn't all of those flood back to her? Or would she lose any trace of them all be one fresh new being? Only William likely holds the answers. One of those two scenarios is what I'm most excited to emerge out of that dying Bar(n).
The hour itself didn't excite me, but the possibilities it unleashed have infused me with a new passion for Haven and I cannot wait for next week. And more Duke and Jennifer. Honestly, I'm captivated by them. 
What did you guys think and what are your hopes for when the girl formerly known as Audrey and William finally escape the Bar(n)? Chat about it in the comments! 
Carissa Pavlica is the managing editor and a staff writer for TV Fanatic. She's a member of the Broadcast Television Journalists Association (BTJA), enjoys mentoring writers, wine, and passionately discussing the nuances of television. Follow her on Twitter and email her here at TV Fanatic.