Hell on Wheels Review: Kiss Kiss Bang Bang

Sean McKenna at .
Once again, the past has caught up with Cullen Bohannon.
Clearly, his path as the new railroad boss has been plagued with problem after problem, and with General Grant's deadline looming on the scenic horizon, I'm not surprised one more issue was added to the list.
And having the Mormon attackers hunt for Bohannon, while great in bringing back up the season premiere, in "Big Bad Wolf; Eminent Domain," it felt like just another hurdle on Bohannon's list.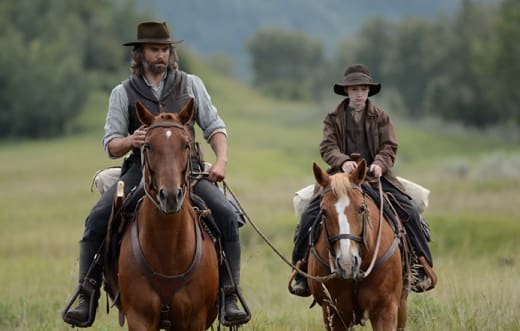 Does anyone actually think they are going to kill off the main character on the show? Sure, Lily Bell was killed in the Hell on Wheels Season 2 finale (and don't get me started on how this season has pretty much ignored her death and simply moved on), but to hang Bohannon would hang the series. You just couldn't continue no matter how inspired the men were by Elam Ferguson's speech to complete this leg of the railroad.
Which has me wondering what Hell on Wheels Season 3 has all been leading up to because if it is simply to reach Cheyenne and beat the obstacles along the way, that would be disappointing. I guess you could argue that Bohannon overcame his outlaw ways to lead the railroad charge, which is great for his character, but when the season arc story leaves certain tension and suspense in the dust, it's tough to look forward to a satisfying conclusion.
I know the Swede is going to eventually face off with Bohannon, especially now that the gunslinger is in the clutches of the Mormons, but to leave their confrontation for the final episode?
It's tough because I think both Bohannon and the Swede are fantastically entertaining and well acted characters. I couldn't see anyone else portraying them, and they are fun to watch. But with everything going on around them simply a hodgepodge of events strung together by the building of a railroad, the story itself seems like it's not quite sure what it's final destination is.
It's clear the show is trying to push Bohannon and Ruth together. Yes, she has been a form of solace for him, but their conversation about him asking her to stay or Psalms telling Bohannon to marry her felt forced. I just haven't seen enough between them to have me root for them or believe that they should end up together.
The same could be said for most of Louise Ellison's actions on the show. It's great she's helping Eva, but really, having Eva trying to put the moves on her? What does that add to the story as a whole or even further Louise's character on the show?
At least Bohannon and Ferguson's relationship has been enjoyable in their banter and camaraderie, even with Ferguson super drunk. They've been through a lot, but still wind up having each other's backs at the end of the day. That's good to see for those two characters.
Truthfully though, the stars of "Father and Sins" was the direction and cinematography. It was outstanding to watch.
This hour involved the ultimate shoot out utilizing sweeping shots of the riders chasing after Bohannon, a gun battle that felt cinematically epic, close ups and moving shots of the characters gliding around the town. Even watching a scene like Bohannon slide a gun across the floor or kick one up into his hands felt full of the Western cool that I had wanted to see since starting this show.
Bohannon never looked so bad ass walking through town shooting bad guys left and right with the swagger viewers have come to know and love. Not to mention taking a sacrificing position for the boy was a big step for him. He really has pulled on his "good guy" hat this season.
The hour was a real treat for the eyes from start to finish, and it made me wish more episodes were filmed the same way. There was a grandness to it all from the simple conversation pieces, building the railroad scenes, or firing off a plethera of guns.
This episode will definitely be remembered for the gun battle and the fantastic filming involved, but like much of this season, the story has left me hungry for something with a little more substance, more tension, and something to really build towards. It just makes me worried that even with the new driver for Hell on Wheels Season 3, the series might be making it's last stop for good with next week's season finale.
Sean McKenna was a TV Fanatic Staff Writer. He retired in May of 2017. Follow him on Twitter.