Jim's Notebook: Suits, Sleepy Hollow and a Lighter Parenthood?
Jim Halterman at .
It's the most wonderful time of the year!
I know that's from a Christmas song but Fall TV time always gets me excited as returning shows are back and new favorites could pop up amongst the new offerings.
This week's Notebook takes us closer to the Suits summer finale, the return of Parenthood and the exciting new Fox series, Sleepy Hollow. Let's check them all out!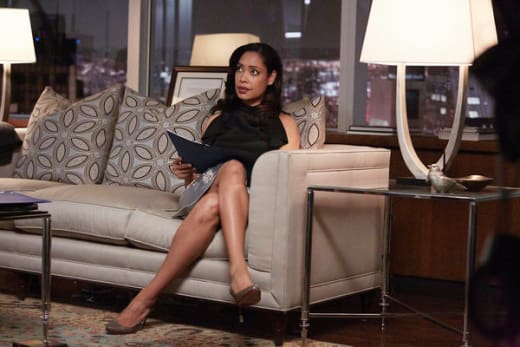 Suits: It's been a wild rollercoaster for the relationship between Jessica (Gina Torres) and Harvey (Gabriel Macht) on this season of Suits. And while they may seem united as we head into next week's summer finale, I asked Torres this week if Jessica is at a place where she can trust Harvey again.
"I think what's wonderful about these two characters as they're playing out before us and these very difficult relationships that we keep navigating through, there is no definite yes or no to that answer," she said.
"I mean, there couldn't be. We're both driven, complicated people who think that their way is the best way."
However, don't expect Jessica to forget that Harvey made a move to take over the law firm.
"She was deeply wounded by his betrayal, as she has said often," Torres explained. "I think she's going to do her best to forgive him because she loves him, ultimately. They love each other. And I think anybody's who been in a relationship understands that you don't snap your fingers and all the hurt goes away."
"It's a process. I mean, it's something that the two of them have to learn how to be in this new relationship, because now they're both getting partners."
Suits airs Tuesdays at 10 p.m. on USA. Read the rest of my chat with Torres next week before Tuesday's finale.
Sleepy Hollow: Anyone who was a fan of Fringe knows the mythology was a bit complicated, so what can we except from Sleepy Hollow, which is Exec Produced by Fringe-ers Alex Kurtzman and Roberto Orci?
On a press call earlier this week, Orci explained, "We want to have an equally rich mythology, but always as we learn more we are always looking for that great line between a show that you can step into at any time and catch up and yet, a full show that you can be rewarded for, for keeping track of it and that builds upon itself."
"So finding that fine line is one of our ambitions in television, and this is certainly an attempt for us to walk a finer line than perhaps we have."
Kurtzman added that missing an episode won't mean you've missed out on the storylines: "[Viewers] are going to be able to catch up very, very quickly. That's the key is that each episode needs to have a closed-ended story, but as Bob said, the emotional story telling is very serialized; the characters are carrying their experiences and building on their experiences episode to episode."
"So, look, I think we invite people into our living rooms every week through the television because we have emotional connections to them or they make us laugh or they reflect some part of ourselves that we want to live in, and so the key is to give the audience that experience but also to make sure that they are just not lost in story telling that is so heavily serialized that if you miss an episode, you just can't catch up to it."
Sleepy Hollow premieres Monday at 9 p.m. after Bones on Fox.
Parenthood: The fifth season doesn't start until September 26 but I caught an early screening yesterday at the NBC offices and found myself laughing, intrigued by new developments and just when I thought I was safe, I got all weepy at some of the end-of-episode moments. Ah, Parenthood.
But after the weight of the amazing cancer story with Christina (Monica Potter) last season, creator Jason Katims was asked if that's why the season premiere seemed more light and fun.
"It wasn't really a conscious choice," he said with cast members Peter Krause, Sam Jaeger, Mae Whitman, Max Burkholder and Matt Lauria also present. "The first episodes you're starting a lot of things, you're at the beginning of things…the first couple of episodes tend to be a little lighter because you're ramping up and starting new stories and then after a few episodes, the more dramatic aspects tend to kind of kick in and that's one of the things that I really like about the show. I feel like we tell these stories in an organic way."
He also explained that just because Christina is now cancer-free, it's still very present.
"We don't do a story where 'our kid is diagnosed with aspergers is a four episode arc'" he explained. 
"Similarly with Christina, though she battled and came out on the other side of things last year, that still informs what her story is going to be this year…it's about her wanting to start fresh and value the everyday of her life."
Watch for the rest of the Parenthood Season 5 premiere preview soon on TV Fanatic.
That's a wrap for this week! Anything else you're dying to know about your favorite show or one of the new fall offerings? Leave a comment here or you email me directly at jim@jimhalterman.com. And remember: follow @TVFanatic for all your TV scoop!
Jim Halterman is the West Coast Editor of TV Fanatic and the owner of JimHalterman.com. Follow him on Twitter.