Someone is going to go down for the murders of Billy Dobson and Brendan McCann.
Now, whether that's Damon Callis, his wife, Joe Geddes, Frank Agnew (although most likely not him) or some other fall guy, the noose is about to be pulled tight. There will probably be some collateral damage, and I've got a strong sense that someone else will wind up dead before all is said and done.
After all, Low Winter Sun has proven that in the city of Detroit, dark, dirty and dangerous is all the rage. And a little pee can spice up any interrogation.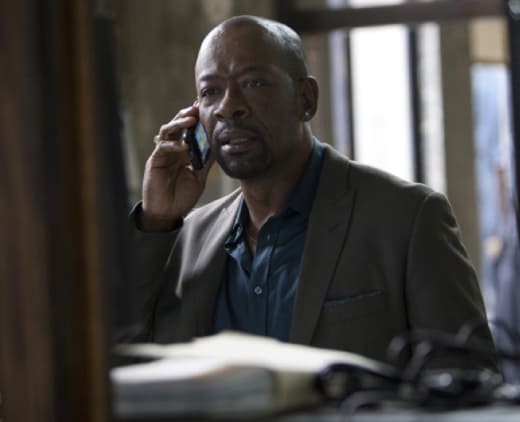 Damon does seem to be the perfect scapegoat for Frank and Agnew's crime, especially because he did kill Billy.
The back and forth between Frank and Damon was a drastically different conversation than when the witness was essentially manipulated into taking back his comments. Damon was clearly not willing to back down, knowing that Frank really didn't have everything on him.
And I liked that their conversation felt more natural. Often on the show, the characters speak dialogue or act like they are pulling lines from the script. It can definitely take you out of the moment, but during their head to head, the two felt like real people rather than characters trying to fill out a show.
At the same time, it was interesting to see Joe and Frank use some rather excessive tactics to get Damon to talk. Even the boss looked okay with their moves. Which, of course, makes me feel even more so that Dani looks to be on the fast track to death.
I like that she remains the closest thing to a "good guy" on the show, but her aspirations for a future by taking the LSAT, slowly piecing together Joe's involvement in Brendan's murder and her ability to keep on digging will only end up with her digging her own grave. I just don't know how she's going to be able to stick around once that truth becomes hard fact.
What's more, her relationship with Frank was turned up a notch, leaving him just one more step emotionally invested. What course of action will Frank take if he knows that she knows (even though she doesn't suspect him yet)?
As for Joe's jump-the-gun beatdown of Damon at a possible confession/deal? It seemed so obvious he was trying to cover something up, so it was no surprise to see Joe speaking with Skelos.
It is interesting to note that the further down Joe goes, the more he seems to want to have his daughter head in the opposite direction. Maybe a little more practice what you preach for him is needed.
But Frank had it right when he said, "Don't act like you didn't have a choice. You had a choice every day." I'm glad that Frank called Joe out on his dealing with Skelos, Dani closing in on them and the problems that just won't seem to go away.
And with Simon Boyd coming to Dani with his own suspicions about Joe and Frank, the waters of trust and honesty seem to be getting murkier by the minute.
Sure, Simon's logic of the murders does feel rather circumstantial, and I was glad the judge recognized that too. But his final words of the hour, "There Was a Girl," put his bloodhound scent right on target.
Can Simon survive the end of the season?
There's still not a lot of funny to be found and sometimes the show takes itself way too seriously, but the episode was rather captivating. The characters opening up and divulging their thoughts and secrets while watching the world slip out of their control keeps me wondering just who will be able to climb out of the pit when it's all over.
Sean McKenna was a TV Fanatic Staff Writer. He retired in May of 2017. Follow him on Twitter.