What is up with AMC wanting to show chicks using the bathroom? There was Lori Grimes from The Walking Dead in "Cherokee Rose," and now Katia in this episode of Low Winter Sun. Let's hope that's the last time.
That said, "The Way Things Are" was a rather entertaining hour, giving the characters something to do and connecting a lot of dots along the way.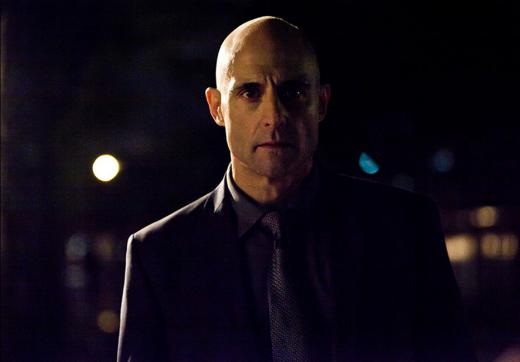 It's rather enjoyable watching Frank act like a detective. Whether he's using his friends, his connections, his informants or putting together the clues, he's a top notch cop.
And he finally found Katia in a rather shady looking part of Chicago. I don't think Ferris Bueller ever made it there on his day off.
Interestingly enough, Katia repeatedly turned him down, first on the internet and then in person. Is it because she's trying to protect him? Protect herself? Or does she really think of Frank as just another guy that says he wants to be with her because of the fantasy that she plays for men?
Maybe Frank has played himself into the fantasy of Katia simply because the rest of his life feels so void and cold.
Which made perfect sense when he decided to jump in the sack with Dani, trying to replace what he had with Katia (or at least he thought he had). I'm a little bummed Dani didn't turn him down, but I guess on some level she was looking for a hook up too, although it was obvious she was also looking for more. Too bad Frank isn't on the same page.
At least Dani called Frank out on his actions. She seems to be able to see things that other people are glossing over, especially with regards to the McCann murder. I feel like there's a nagging suspicion for her that the men the witness described might be in fact Frank and Joe. The problem will be the consequence of her discovery and what she ultimately decides to do with that new information when she (and most likely will) figures it all out.
This episode really tried to develop the characters as people, too, even offering a glimpse into Joe's world as a father. More often he is portrayed as snarky and something of a bad guy, that corrupt cop that pulled Frank into his scheming world. And yet, we learned about Joe going to school as a child and straightening his life out. What was more was his insistence on helping his daughter do the same while openly admitting that she was far better than he and should get the chance to try out the new school.
Damon on the other hand finally was able to open up. He was so cold watching his friend die in the car, but crying in the back alley and feeling the once positive rise in power to the rapid descent back towards nothing hit him hard.
And boy, did he keep his losing streak. He practically begged and blackmailed Skelos for a way back in against Reverend Lowdown. Except the sit down ended up costing him the Blind Pig and the bar. It's as if he's dropped himself further on the totem poll, even if it saved his skin… for now.
The sit down further explored the dark side of Detroit and the power plays with all involved. It didn't matter that Nick enacted revenge in Damon's name (granted, it looked like his PTSD wasn't helping the cause). It's obvious who the men in power are.
What was worse for Damon, was his name was essentially passed on to Frank. Things are not looking good for the character, and he could wind up a fall guy.
Sure, Reverend Lowdown might also be on Frank's radar, but he seems to have far better connections and a way to weasel out of handcuffs or death. I'm curious to know more about his character, especially with how he knows Frank.
Heck, it seems like there aren't many people Frank doesn't know.
This was a far more involved Low Winter Sun episode that pushed things along while opening up the characters. It's as if the noose is slowly getting tighter on the story and the big ending, but the real question will be who ends up getting hanged when all is said and done.
Sean McKenna is a TV Fanatic Staff Writer. Follow him on Twitter.