This was probably the least action-oriented episode of the season, but a whopper of a secret was revealed that gave us a lot of insight into the character of Ray Donovan. His motivations could be much different than I imagined, although given his nature, I'm surprised I never thought about the idea of the reveal before.
Almost the whole episode played out inside Fite Club, other than an initial scene where we learned Ezra was the legal guardian of Sean Walker's baby, with Mickey struggling to cover his ass in the murder of Sean Walker by using his love Claudette and Avi protecting Ray's family as he and Ray fully expected an onslaught of terror to reign upon them from Sully and friends.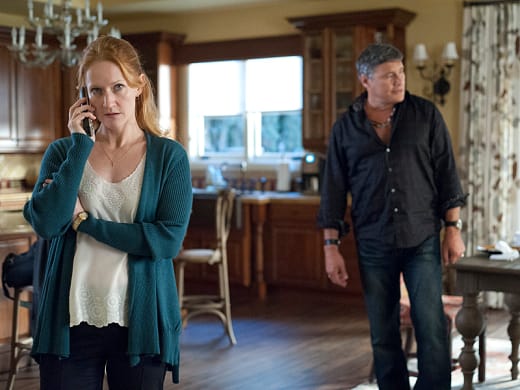 As it turned out, Sully wasn't around and Abby was more concerned with Ray's lies to her than anything else. The one irksome part of Ray Donovan is Abby's supposed ignorance about the violent nature of Ray's job. She has been with him far too long to think that he is running a clean life, and her indignation at the idea she might need to stay inside her home and require protection rings false. Over and over she plays that same card and each time her hand comes up empty. It's time to give her character a clue because she's not been written to be a stupid woman.
The crux of the episode came down to Bunchy and his need to deal with the inner demons that have been haunting him since childhood - and even more since he discovered Father Danny in L.A. running around with children. Apparently he wasn't considering a jump off the roof last week, but how he would confront the good Father.
Bunchy just wanted an apology so he could move on with his life and get some closure. Father Danny refused to give it to him. Some sort of struggle ensued and Bunchy shot him. What wasn't clear was how Bunchy got Father Danny to Fite Club, since he rode his BMX bicycle to the confrontation. But he managed to get him there, blood all over the place, and Terry called in his brother the fixer to try to clean up the mess.
Ray was pretty cool during the whole encounter, but we learned he had been blaming himself for Bunchy's rape for years. "Bucky F**kn' Dent" was the reason. Mickey had promised to take Ray to a ball game to see Bucky Dent and Ray waited and waited but Mickey never showed. When he got home, he found Bunchy and knew immediately what had happened. It's interesting to note that I didn't pick up on his knowledge of that happening, as a kid, with such expediency. Why would a young boy suspect that of a priest during those years? You can rest assured that single day also planted a lot of the baggage Ray carries around with him about Mickey, as well.
As Father Danny was begging for mercy and lying about who he was, Ray asked Terry which finger he broke when the Father was trying to rape him. Even after clearly being caught red handed (quite literally), the Father continued to lie and beg. What was so upsetting about the whole thing was Bunch worrying about the Father's fate. After everything he had been through, he still felt badly about doing something to the man who had made his life hell.
Abby defied Ray and Avi and went to Fite Club to confront Ray, seeing Father Danny. When she saw him, she turned around and returned home. No questions asked. Father Danny put up a fight when Ray said he would take him to the hospital, and we learned the only Donovan brother who was left unharmed by Father Danny was Daryll because he wasn't raised with the brothers.
When Father Danny declared that he had loved Ray, Ray shot him in the forehead. There was no way in hell he was going to let that man say out loud something that he had kept inside for 30 years. Ray did, finally, admit Bunchy wasn't the only one abused by Father Danny. He told Abby.
So we'll go into the finale understanding just a bit more about what makes Ray tick. We can understand why he is so protective of his brothers, and why he hates his father. More evidence piles up every week. It also explains his hot and cold relationship with Abby, and why he hasn't been able to give her the one thing she craves - emotional intimacy. With this revelation, she may finally have a chance to get it, but there will likely be a price involved.
It's not going to take long for Ray to realize that Mickey killed Van Miller, and Frank already told him he's coming after Ray for the murder. Will the latest brushes with Mickey - Sean Walker's murder and the dredged up memory of what Father Danny did to his family - be enough for Ray to get the old man out of his life? Will Abby feel differently about Mickey when she realizes that Ray suffered abuse because of his neglect of the same nature as Bunchy?
What's going to happen with Frances? Terry has a decision to make. He's been the softest brother to date, but will he put his brothers' lives on the line by allowing her to search for Father Danny in the hospitals? He can either take her into his confidence (after all, she is an abused woman), or he'll have to take her out. Does he have the balls for that?
Furthermore, will Ray tell his brothers or Abby what happened with Sean Walker and Mickey's FBI handler - all of it - to get them all on the same page? How long can he keep things inside and try to play superhero while Mickey worms his way back into the lives of those Ray holds so dear? Mickey's tearing them apart from within, just like Father Danny did. Something has to give. Perhaps it's no coincidence that both Mickey and Father Danny showed up in the Donovan boys' lives at the same time after so many years.
Ezra was right, their problems didn't go away, they got worse. Ray already killed one Father, it might be time to think about killing another.
Carissa Pavlica is the managing editor and a staff writer for TV Fanatic. Follow her on Twitter.