The Blacklist Review: Scam or Second Chance?

Carla Day at .
The opening scene of The Blacklist premiere was the most mesmerizing of the fall season and the show just continued to build from there. It continued to hold my attention until the very end with the compelling characters, performances and twists.
James Spader is captivating as one of America's Most Wanted criminals, Raymond "Red" Reddington, and Megan Boone holds her own next to him as FBI Agent Elizabeth Keen. She's not going to stand by and be Red's appointed apprentice. At times, she may have learned from him, but it was with the goal of gaining information.
When he didn't cooperate, she took matters into her own hands ... literally by putting a pen into his neck.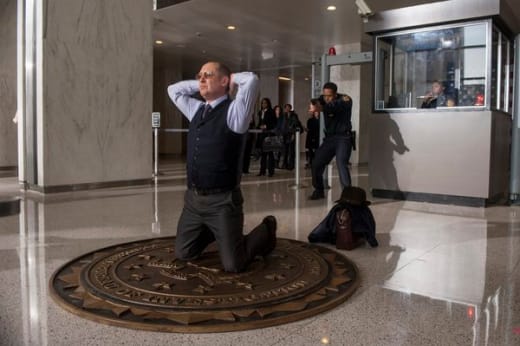 Why would a renowned and skilled criminal as Red decide to turn himself in? He claimed that it was because he wanted to help them capture a terrorist, Ranko Zamani, though that was just his way in. Instead, it appears that this is all about Liz, the novice FBI agent. What is his connection to her? And why is he determined to work with and seemingly mentor her?
That mystery sucked me in, especially during the initial meeting between Red and Liz. It may have been her first day, but she stayed strong and stood up to Red even when he revealed that he knew deep personal secrets about her. He needs Liz to validate himself for some yet-to-be-revealed reason. He feels an intense connection to her and didn't hide it when he told her, "...if anyone will give me a second chance it's you. The two of us have overcome so much."
When Liz worked out the clues on the board that connected Zamani, Beth, "the Banker" and "the Chemist," Red looked like a proud father who was admiring his daughter's abilities. Red probably knew all the connections, but rather than just tell her he wanted her to figure them out herself.
Red's plan was intricate and allowed him to play both Zamani and the FBI without their knowledge. It was shocking to find out that Red was behind Zamani's attack on Tom. As the series progresses, it will be intriguing to see if Liz uses his need to connect with her to her advantage. It's unclear exactly how much he knows about her. How did he know that Liz's husband, Tom, had a secret? Could he be Red's source of information? Tom would know about Liz's past, their plans to adopt a baby and most likely about her scar.
I doubt Red ever expected Liz to come at him and stick a pen in his neck. In that moment, she showed immense strength. Red would be disappointed if she wasn't a challenge. He honestly respects her. Though, his intentions remained a mystery throughout the entire episode.
Even as a viewer watching Red's interactions with both Zamani and the FBI, his ultimate goal wasn't obvious. Since Liz was with Beth and the bomb, he didn't want the bomb to go off, but was his intention to get the bomb for himself and/or the Ukrainian? Or was he telling the truth that it was just payment for preventing a devastating chemical disaster?
In the end, Zamani was dead and the bombing was stopped. It was a win for the FBI and provided Red's entrance into the FBI to continue his plan of bringing down criminals on his blacklist. I doubt it is that simple with Red, he has a hidden agenda and it's all about Elizabeth Keen. 
What is their connection? Who is Tom Keen? Is he working with Red? Or, is he potentially a threat to Liz? Is he there to help "Lizzie"? Or, further his own criminal goals?
Odds and Ends
Raymond Reddington was in the Navy and being groomed for Admiral. He disappeared leaving his wife and daughter behind. Where are they now? Will they show up?
Given their new circumstances, will Liz and Tom continue with the adoption? Or give it up?
The "Post Office" was an awesome location. I hope they continue to use that as the black site.
Red had a sweet deal at the hotel. His information was worth the expense ... this time. Will he continue to be worth it?
How did Liz get the scar? It didn't sound like she was abused by her father. And, she takes strength from it. That will be a story to find out.
Tom was hiding money, many passports from different countries under various names, and a gun. He's definitely more than just a teacher.
"99 problems and a bitch ain't one."
Did you get sucked into the story too? Will Red be an ally or adversary within the FBI? Any speculation about whether Tom is working with Red? Or is Red working against Tom?
GRADE THE OPENER NOW:
Carla Day is a staff writer for TV Fanatic. Follow her on Twitter and on Google+.