There wasn't much new information revealed in "Old Friends," but several leads and connections were confirmed.
The hunt for David Tate was in full force after Gus' abduction with Sonya forgoing surgery to help Marco track down his son. They are on the killer's trail, but Tate has proved to be formidable. He's planned his revenge in meticulous detail with them finding only the clues he's purposefully left behind.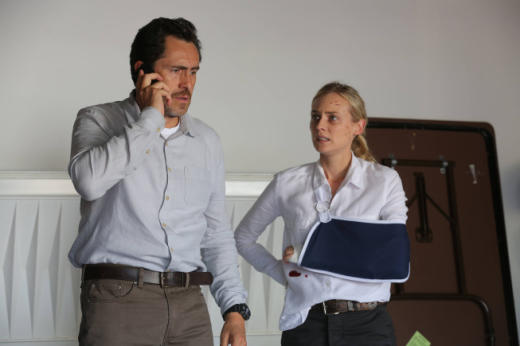 Marco's life is in ruins. His estranged wife wasn't willing to stand by him even after he saved her life or with Gus missing. She's lost all faith in him as a husband. She's pushed him away, which has left him with nothing but his son. That put Marco in an emotionally vulnerable situation that allowed him to put aside reason and take off on his own to meet with Tate.
Tate set up the situation for Alma and the girls to be rescued, but Gus may not be so lucky. Will Tate kill the innocent boy to punish Marco. A son for a son? I'm not sure. Tate has shown time and time again that he uses terror to punish not death.
Tate put a fake bomb in Frye's car. He left the girl in the desert with a video feed that led to her being rescued. He didn't kill Alma, but terrorized her with the grenade and then gave Marco the coordinates to find her. And, now Marco's in a tank that is slowly filling with water. Tate has set up elaborate methods to petrify his captives, while putting Marco or the police in a situation to try and save the victim.
It's still unclear where Tate's actions are leading. What is his ultimate goal? How will he know when he has won? Or, is his soul so tortured at this point that nothing will satisfy him? At this point, it appears that the journey is what gives him satisfaction and perhaps he's planned out many more months of situations to make those who wronged him pay.
Tate definitely has the upper hand right now with Marco in his car, Gus in the tank, and Frye presumably sedated somewhere. Though, it was initially surprising that Tate allowed Marco to keep his gun, but there's certainly a reason. Marco won't shoot Tate since he doesn't know where Gus is being held, but perhaps Tate is going to force Marco into killing someone. Frye, maybe?
The Bridge has been tedious to watch at times with the side storylines and the painstaking character reveals, but in the larger picture it's provided an in depth understanding of the characters at play. While on an episode-to-episode basis it sometimes has seemed that little movement has been made, it hasn't taken away the compelling story being told.
The pacing will play well for those who decide to marathon the show. I suspect that watching several episodes in a row actually would provide a better viewing experience, by allowing the viewer to become more engrossed in this world.
It's been captivating to watch the David Tate thread unfold over the last 10 episodes. The same cannot be said about whatever Charlotte has going on. As emotionally invested as I am in what happens to Sonya, Marco and his family, I am completely uninterested in Charlotte and the tunnel. It's provided insight into the underworld of Juarez, but that's about it. When she shot Tim, I didn't care. 
The show has often shown that seemingly unrelated people and situations are in fact a major component of the story. I hope that's the case with Charlotte, but at this point I don't see it. Since she slept with Marco, I feel like I could have fast forwarded through her scenes and nothing would have been lost. In actuality, if I did that perhaps it would have been a more enjoyable show.
With three episodes left, I hope I'm proved wrong and that there was a point to it all. For now, the David Tate's quest for revenge more than makes up for it.
Will Tate kill Marco? Or is he all about using torture? Does he have an exit strategy? Or an ultimate goal? 
Carla Day is a staff writer for TV Fanatic. Follow her on Twitter and on Google+.