The Reagan family is full of surprises. Apparently they aren't only ready "To Protect and Serve" the general public but they have secret code words in order to protect one another as well.
But let's start from the beginning.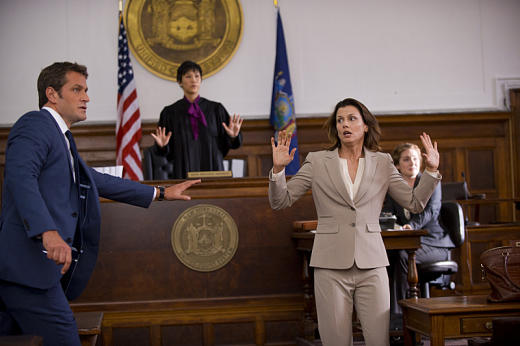 When Danny learned that Raul Delgado disappeared from the system after being sentenced to prison for murder, I knew something was up. So it wasn't a huge surprise to find out he was an informant for Homeland Security but that didn't mean the story didn't have some unexpected twists.
Danny took an entire SWAT team to capture Delgado. So why was he the only one to jump through that window and chase the man? There were several people on that team. Did they all just decide they'd let Detective Reagan handle it?  One of my pet peeves about this show is that sometimes it tries too hard to make Danny look like a hero.
I knew from the previews that the courtroom was going to be taken hostage but what I never expected was for Erin to get shot. Somehow Erin made a gunshot wound to the shoulder not look so bad, being that she was still standing upright and talking coherently. She even made it to Sunday dinner.
I loved that the entire Reagan clan had a code phrase that meant hit the floor and that everyone from the oldest to the youngest members knew just what to do. 
There were a lot of other great moments in this episode. I actually had a new appreciation for Jack Boyle as he did his best to protect Erin from Delgado. His reasoning for not coming to visit her in the hospital was actually rather endearing as he explained in this Blue Bloods quote…
Jack: I was going to come see you at the hospital but I knew you had your family there and they always carry loaded weapons. | permalink
I can imagine that being an ex amongst Reagans is an uncomfortable situation.  But Jack and Erin looked pretty cozy at the end of this episode as he admitted that letting her go was his one true regret. Was what happened next nothing more than a one night stand or the start of something more?
I also appreciated Jamie's story. He definitely did the right thing not leaving that child but that didn't mean there weren't consequences for his actions. Unfortunately there are many times when doing the right thing is not rewarded, or as Frank put it…
Frank:  Balls is knowing the cost and going ahead anyway. 
So do you think Erin and Jack have a future or was this just a life affirming fling? Was I the only one who almost didn't recognize Jamie's partner in her date clothes? And should Danny have gone up against Homeland Security on this week's Blue Bloods?
C. Orlando is a TV Fanatic Staff Writer. Follow her on Twitter.