Bobbi Dobkins is back... and she's got herself into quite a scandal.
On Drop Dead Diva Season 5 Episode 12, Deb's mother makes a reappearance when she's arrested and need's Jane's help.
However, this wasn't exactly a case she felt comfortable going to her daughter's ex-boyfriend for.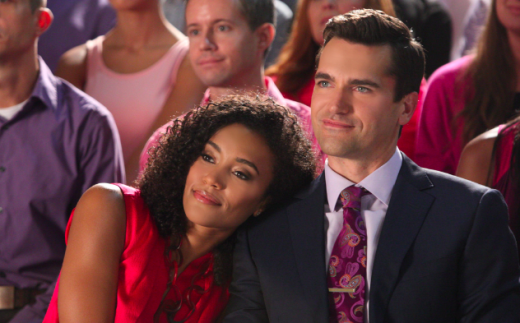 So what could be so embarrassing that Bobbi wouldn't ask Grayson for help? You know, getting arrested for allegedly soliciting sex can be pretty awkward. Especially when we found out the reason Bobbi had such an insatiable sexual appetite. 
Let's just say I've been experiencing a bit of a sexual renaissance. | permalink
You go girl! Well, it turns out that Bobbi felt like the flame had gone out and she needed a shock to her G spot in the form of collagen. Normally this a procedure we hear about on one of the Real Housewives franchises. Bobbi had a one in a million side effect situation and was having spontaneous orgasms. That's why she needed to frequent cougar night and find a young stallion who could keep up with her.
Who would seriously think that Bobbi paying for her own drinks and offering for dance lessons in exchange for an orgasm really meant that she was trying to solicit a gigolo? Deb loves dancing and she offers dance lessons to everyone. That video just looked like a women who was... how can we put this directly...  horny.
The scene with Bobbi and Jane at the end was very touching. She never thought Grayson would look at anyone the way he looked at Deb. Then she saw the way he looked at Jane and realized that perhaps there isn't just one soul mate for a person. Her teary-eyed blessing made me a little emotional. Then of course, just as Jane is about to admit her feelings, Stacy came rushing in with an emergency.
Obviously what happened to Jane's mom is an emergency, there's no denying that! But dammit, I am sick of the constant interruptions with Jane and Grayson. It's been five seasons, can we get this going already? We just find out about Drop Dead Diva's season 6 pickup so is it possible that the writers wrote next Sundays' season finale as a series finale?
I don't think I'm alone when I say it is about time these two get together. Elsewhere, Owen's gesture in yoga class was equally hilarious and adorable. I see Stacy's reasoning for breaking up with Owen; she is simply afraid and I think everyone gets scared in relationships from time to time. However, I find myself hoping that these two work it even.
Go figure, a few weeks ago I was anti-Stacy and Owen, but now I can see these two being happy together. The sperm donor train has already left the station, so I guess it seems like they should give it a fair shot if it's there. Also, great nod to the Lululemon see-through pants scandal.
What about you guys? What are you predictions for the Drop Dead Diva season 5 finale?