You can count on one thing when Charlie Bradbury reappears on The CW's Supernatural: it will never be boring.
Indeed, on Supernatural Season 9 Episode 4, Felicia Day returns as IT expert Charlie to initially help the guys with the table in the Men Of Letters lair that just happens to house an ancient computer.
And as if that weren't enough, Dorothy (Tiio Horn) and the Wicked Witch (Maya Massar) – yes, that wicked witch – are also a part of the action here in the bunker. (Jensen Ackles and Jared Padalecki talked to us about the Oz-centric episode last week.)
I jumped on the phone yesterday with Day to get a preview of the unique episode, as she teased Charlie's reaction to Dorothy, along with her thoughts on the Supernatural spinoff.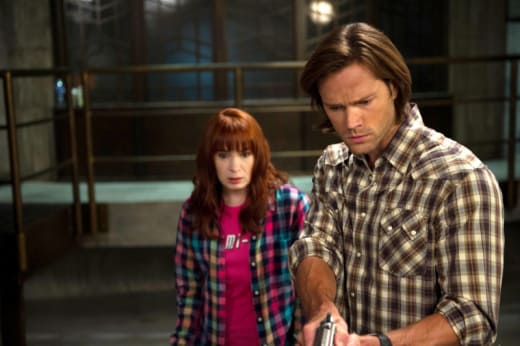 TV Fanatic: Such a cool way to bring Charlie back to the show with this Wizard of Oz episode.
Felicia Day: I was thrilled. When I read the script I just couldn't believe I got to do it. It's so right up my alley and also Charlie, the character.
TVF: I was on set recently and Jared had said that Charlie has a really cool reaction to Dorothy. Can you talk about that?
FD: I think this is a world that Charlie knows. She is a girl who lives in other people's world. She's the epitome of that Comic Con fan who loves to be immersed in other people's worlds. Just having a world come to life in front of her…it's just super fun to see the situation through her eyes.
TVF: Is she crushing on Dorothy a little bit or is it not really about that?
FD: I wouldn't say it's about that although there is a dynamic of admiring. This is a really fun twist on Dorothy in that she's not the traditional kid you think of with the braids. She's a strong female character. She has an opinion, she's from the 30s, she's wearing this aviator jacket, kind of like Amelia Earhart/Indiana Jones in a way. Charlie is a strong female character, as well. She has opinions and it's interesting to see how those two characters interact and I think it's going to be super fun.
TVF: A clip from the show reveals that Charlie has been reading the Supernatural books about the guys. Does that come into play?
FD: The last time we saw her was a really emotional episode where she said goodbye to her Mom and she really revealed things to Sam and Dean that she never revealed to anyone before. So that dynamic plays out in this episode in that as she's been away she's come full circle and now she's intent on earning her place as a hunter and she's very focused on it.
I think her brain is her biggest weapon so what she knows about the world is what she's dug up and she's been reading a lot including the Supernatural books so I think that the guys are a little taken aback with her exploration of that, for sure.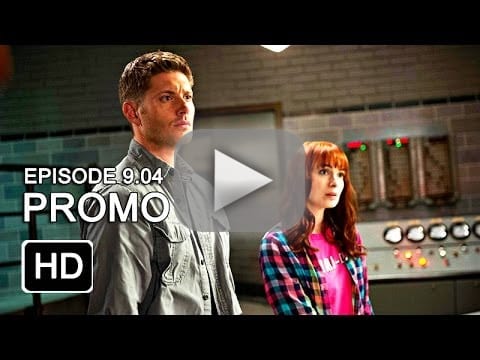 TVF: Does Charlie get wind of the fact that Sam isn't really Sam at this point?
FD: I think that may come into play in the episode but this thing with Dorothy is such a turn but there might be situations where she sort of misses that in a way but I would say that that through-line is interestingly present in the episode.
TVF: I was on set recently. What did you think of the Men Of Letters set?
FD: I mean, it's amazing! And it's so cool because Dorothy fits in that world really well but that said what they've built there on screen and even bigger in person is awe inspiring. It's really just beautiful and the cool thing is that this episode all takes place in the bunker so you see various aspects of the bunker you haven't seen before and this whole storyline with Oz is tied in with the past in a way so I think it's really fun for fans to see the layers peeled back about this place that's become the guys' home.
TVF: Do you personally like that we see Charlie once in awhile or do you think if she was in every week that it might take away from the fun of her popping up here and there?
FD: I can't really have an opinion about that because it's whatever the writers feel is best for the show. I feel so lucky to be part of the show and the fact that when Charlie is there it's always epic episodes and I'm always thrilled to say the lines and it's always something fun. So however frequent it is, the fans seem to respond to her regardless and so it's whatever they want.
TVF: And there is a spin-off coming so you never know what they have in store.
FD: [laughs] We'll see…we'll see…
TVF: Do you get asked if you're going to be on Agents of SHIELD or any other Joss [Whedon] project just because of your history with him?
FD: I do get asked that a lot and, again, it's a question of, I'm always honored to be thought of and be able to work with the people I admire and love and I never expect anything because I realize as a producer myself and a writer myself it's all about where the story needs to go. So if I'm ever a part of it, fantastic, and if not I'm a huge fan and supporter of what he does and anybody I've ever worked with does.
TVF: Anything else you're working on that we should know about?
FD: I'm actually producing two shows for Geek and Sundry that are scripted comedies so I'm very excited about that because that's really where my heart lies going back to [the web series] The Guild. We're doing a superhero comedy called "Caper," which is created by Amy Berg and she's actually helped create the character of Holly I played for two seasons on Eureka. I'm so thrilled that she's been able to create a webs series for us. And then we're currently about to go into production on a show called Spooked, which is a co-production with Bryan Singer's company, Bad Hat Harry, and it's a show about a paranormal investigative team which I'm very, very excited about.
Supernatural Season 9 airs Tuesdays at 9 p.m. on the CW. 
Jim Halterman is the West Coast Editor of TV Fanatic and the owner of JimHalterman.com. Follow him on Twitter.