After last week's emotional previews for tonight's episode of Glee, one thing was clear: There would be tears. And there were. How do you say goodbye to someone who died so suddenly? What does that look like? 
"The Quarterback" answered those questions and more and did it in true Glee fashion: a little Sue snark and a whole lot of heart.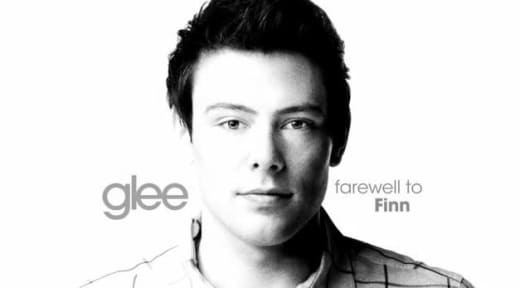 There's really only so much to be said about this episode. It was, in a word, heartbreaking. But it was also sort of perfect in the way that Glee can be when faced with tough moments. 
Kurt was strong and capable, a rock for the others, which is a testament to the characters' growth over five seasons. Sue was snarky but able to express how she regretted the way she'd treated Finn during his life after being confronted by Santana, who maintained her hard exterior while crumbling on the inside. Puck was Puck.
Rachel and Mr. Shue? Oh, man. Get the tissues again.
Everybody was broken and everybody had a moment. 
Burt and Carole's scene going through Finn's things and talking about what they should've have done and how they felt broke me. Watching Carole fall apart and wonder how parents pick up and keep going after a loss left me gutted. It's not something that parents really want to think about and then sometimes they're faced with that reality. How do they go on after that?
I could have done without Puck stealing the tree or the Letterman's jacket being a totem passed from person to person, but I understood the sentiment. They all wanted a piece of him so they could remember. Something tangible for the moments when they can no longer see his face or hear his voice in their minds. 
Rachel and Will's talk over the piano was so very real and honest and it was clear that when Rachel said that she wondered how she was supposed to move on from there that Lea Michele was saying them, too. How do they move on, both the character and the person?
That emotional transference, the fact that these weren't just actors on a set but friends of Cory's who were still reeling from their loss, was clear throughout the entire episode. Their tears when Rachel sang "Make You Feel My Love" weren't forced or fake. 
Most of the moments of heightened emotion felt pretty genuine because each was a different look at what it means to be a person in mourning.
Each character who was close to Finn had a breakdown to come to terms with his or her grief and what Glee did well was expressing the fact that people don't grieve the same way. Grief looks different on everybody.  There's nothing quite like death to make people face the reality of life and their own mortality, you know?
The writers faced a challenge in creating this tribute and, at least in my opinion, they met that challenge in the best possible ways. 
Glee has a tendency to over-simplify complicated stories. The infamous three-episode arc causes insufficient attention to be paid to serious issues, a problem which has plagued Glee and caused it to feel at times like an after school special. 
They could've gone full anti-drug PSA with this tribute, but they didn't. In not going there, they made the story of Finn's death nearly above reproach, which in many ways protects Cory Monteith's legacy and memory.  By not sharing how Finn died at all, they emphasized the greater message: his life. His line.
The dash between his birth and death is what matters, and by extension its what matters in our own. It was Glee's way of asking "what are you going to do with your line?"
So, what are you going to do?
What did you think of "The Quarterback?" Did Glee pay tribute to the late Cory Monteith and Finn Hudson in a way that allows the show to move forward? Or will there always be something missing?
Miranda Wicker was a Staff Writer for TV Fanatic. She retired in 2017. Follow her on Twitter.