Hart of Dixie Exclusive Preview: Who's Having Secret Sex?
Kate Brooks at . Updated at .
We are just hours away from a return trip to Bluebell.
Following a fantastic finale in May, Hart of Dixie kicks off Season 3 tonight on The CW - and who better to pick the brain of for some scoop than executive producer Leila Gersteiin?
In the following exclusive interview, Gersteiin tells us what to expect from Zoe and Wade, how the series is dealing with Jaime King's real-life pregnancy and whether George's Zoe-related blues are finally cured...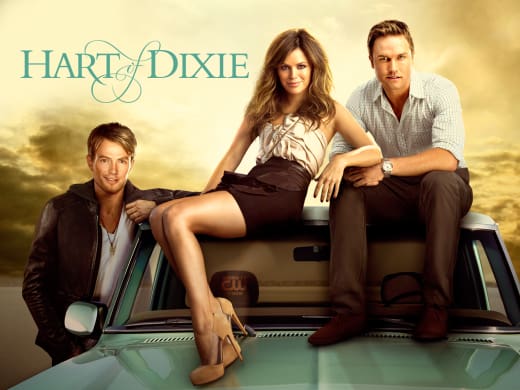 The core of this show has always been the love triangle between Zoe, Wade and George. Zoe has brought nothing but heartache to poor George. One of the best scene's from "If Tomorrow Never Comes" was when Zoe told George how she felt, again, and he responded "Are you freaking kidding me!?" I loved this scene because it's exactly how I felt. George is safe for Zoe.
I completely agree with you. You know who else agrees with you? George. I think that even Zoe would admit it at this point. When we start the season, George hates Zoe. For good reason. They will end up hashing it out.

I like the idea of him being mad at Zoe. He's always been infatuated with her. I am hoping we get some closure for George.
We do, in episode 5.

The relationship between Zoe and Wade during Hart of Dixie Season 2 was an emotional roller coaster. It was love/hate with some fighting, cheating and heartbreak. Was this always the plan?
It was bit of a roller coaster, we kept them together longer in the beginning than we intended because they were so cute together but we always knew how it was going to end. But we fell in love with the couple. So, yes.

In "On the Road Again," we had Lemon say that Zoe changed Wade and vise versa. The first time that we spoke, we talked about how Wade and Zoe make each other better. Are we still headed towards "Zade?" Is this relationship going to continue to play a huge role?
The relationship between the two of them, whether they're together or just friends, they're the bread and butter of this show.

What about Jonah? Are we going to address their summer in New York?
We will know what happened in New York in the premiere "Who Says You Can't Go Home?."

Are George's 'Zoe Hart blues' cured?
George isn't hung up on her anymore, but he is angry with her.

Lavon and Lemon. Do they still stand a chance?
We open this season with Annabeth and Lavon together and happy. It's a long season, a long series - hopefully. I think there's hope for Lavon and Lemon.

Jamie King is pregnant, very pregnant at this point. Is it going to play into Dixie or are you going to hide it?
It's hidden, you can't see it at all.

You've already teased so much for this upcoming season. What else can you tell us?
Lemon is having secret sex with someone. I think you're going to be kind of surprised with what happens! We're coming back five months later, a lot has changed.
Hart of Dixie Season 3 kicks off on its new night tonight at 8/7c.