The Mindy Project opened in church this week, as Casey's congregation welcomed back their pastor.
With the bass thumping and the music blaring, I was actually happy to see him back doing what he seemed to do so effortlessly. The joy was short lived, though, as he quickly announced he was leaving the church to become a DJ. Mindy's expression of shock mirrored those of Casey's flock at her fiancé's unexpected announcement.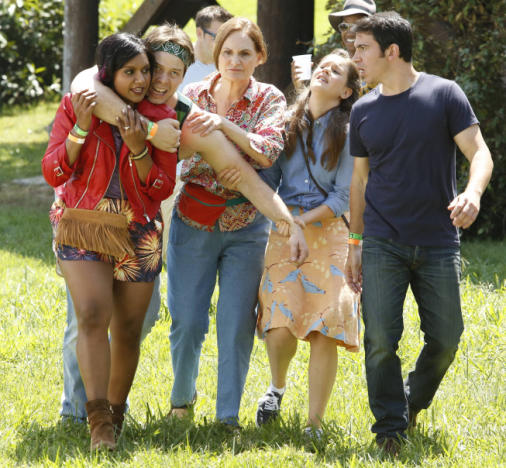 After the opening credits, "Music Festival" moved back to the office where Jeremy reviewed resumes of potential replacements for Paul. I'm sure any viewers who are Duke University alums didn't appreciate being mentioned in the same light as the Somali Online School of Medicine, but then Mindy Kaling poked fun at her own alma mater as we met Dr. Peter Prentice (Adam Pally) from Dartmouth.
The Happy Endings star didn't make the best first impression on the staff at Schulman & Associates. I saw the humor in his fratastic manner of speaking, but having him also come off as sexist and borderline racist seemed a bit much. Especially since he did end up getting an offer from Jeremy after showing good bedside manner with the emotional father in the delivery room. Hopefully they will tone down his character and lay off on the chest bumps because he could be a very funny addition to the show.
Moving on to the festival, while I thought it was a bit odd Morgan would be so oblivious to the pot cupcake he was eating, it did provide the springboard for his hilarious cannonball onto the grass.
Morgan: I'm a drug addict! I broke my back!
Mindy: You're not cool enough to be a drug addict. You're just a big loser. | permalink
Other than that scene, the rest of the festival was a bit ridiculous. Mindy and Danny having to take over the medical tent was a bit of a stretch. Morgan's pretend proposal to get The National to play for Danny was a nice gesture but very awkward and forced.
I've enjoyed Mindy's relationship with Casey, but I don't think anyone expected it to last. I thought it odd how she was so put off by Casey letting the horse out of the barn earlier in the episode, but I give her credit for speaking up about his desultory career plan. They were having a serious conversation like all couples do, but then Casey made the jump to breaking up rather hastily. So much so that I really didn't feel a shred of emotion in the closing scenes when Mindy sat sullenly on her bed with the voodoo doll.
There definitely is room for things like heartache in sitcoms, but I feel even more groundwork needs to be laid to achieve the desired sentiment because of the overall tone of such shows.
Either way, Mindy is back on the market, which should stoke the sexual tension between her and Danny, while also allowing for some potentially awkward date scenes as she wades back out into the sea of singles.